Seven-year veteran on force earns Officer of Year honors
A bit of good-old intuition helped Michael Heuer make drug arrests in two 2005 cases. That intuition also helped the Lansing Police officer garner the Lansing Veterans of Foreign Wars' Officer of the Year Award.
Heuer, who has been with the Lansing force for seven years, first as a reserve officer and now as a fulltime officer, picked up the award at last week's Lansing City Council meeting.
The award came as a surprise to Heuer, who was kept in the dark until the announcement at the meeting.
"The chief told me the day before the council meeting that I needed to go to the meeting," Heuer said. "I knew it had to be for something good for an officer to go before the council, but :."
When the award was presented, VFW Commander Mike Howell talked of the arrests Heuer made in the two drug cases, one involving methamphetamines, the other crack cocaine.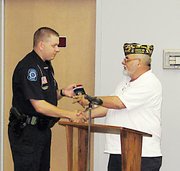 The crack arrest came in March 2005 after Heuer stopped a car that had no brake lights or taillights.
"Both the driver and the passenger started acting real nervous," Heuer recalled. A subsequent search of the car revealed more than 50 individually wrapped packages of crack cocaine placed under the car seat.
Six months later, Heuer was coming off duty when a call came in about an accident near U.S. Highway 73 and Marxen Road. Officers en route to the accident noticed two people sitting on the hood of a car on McIntyre Road. Heuer was on his way home, but said he'd check it out. Once Heuer was there and found the pair was OK, another car drove up. "They said, 'There's our ride.'"
"When I turned around to head back to go home, nobody got in the car to leave, so that raised my suspicions," Heuer said.
Heuer radioed back to the other officers, one of whom had previously encountered one of the people at the car. The information led Heuer to ask the person if he would consent to a search.
"The one guy said, 'Yup, go ahead,' and that's when I found the 58 grams of meth in his pants pocket."
Chief Steve Wayman said it was such work that earned the recognition for Heuer.
"He thinks outside the box," Wayman said of Heuer.
Wayman praised Heuer for more than just big arrests. A certified child seat technician, Heuer started a program with Pizza Hut in which he'll trade a free large pizza for infant seats he finds at garage sales. He, in turn, destroys the seats for safety reasons.
"If a seat is damaged or has a minute crack in it, and it's in an accident, it can wind up being dangerous for the child," Heuer said. "I try to get old ones off the street as much as I can."
"He's very proactive for the kids," Wayman said. "In that program, No. 1, it saves the department money and, No. 2, it makes it safer for the kids."
Heuer comes to his work honestly. When he was growing up, his father was both a police officer and firefighter in the Public Safety Department in Riverside, Mo.
"He always took us down to the station, and whenever he could he would run the lights and sirens on the vehicles," Heuer recalled.
Now a father himself, Heuer said his children are proud of their father being a police officer. They didn't quite understand the significance of his award, he said, but they thought the plaque he received was "neat."
Heuer followed his father's footsteps, first becoming a volunteer firefighter and now a fulltime Lansing police officer.
In other business at its meeting, the council:
¢ Approved, 6-0, with Council member Dave Trinkle Jr. absent, minutes from the regular June 1 and special June 6 meetings.
¢ Heard a presentation from Darlene Dean, director of the Lansing Community Library about programs and progress of the library. Dean said circulation in 2006 is more than 16,500.
¢ Presented former Council member Robert Ulin with a plaque recognizing him for his service to the community.
¢ Heard a quarterly report from Lynn McClure, president of Leavenworth County Development Corp.
¢ Heard a briefing on the baseball/softball programs. Program enrollment has stayed steady since last year, an official said.
¢ Recognized Reserve Officer Tom Mink for 13 years of service to Lansing and the Lansing Police Department. Mink has retired as corporal of the reserve. Police Chief Steve Wayman calculated that Mink volunteered more than 3,200 hours in the position.
¢ Approved, 6-0, a request for a special use permit from Amy Lionberger, 209 Carriage Crossing, to foster more than the four animals allowed by city code.
¢ Approved, 5-1, with Council member Don Studnicka opposed, rezoning of 202A, 202B, 150A and 150B Fairlane St.
¢ Approved, 5-1, with Council member Studnicka opposed, a facilities use agreement for Eisenhower Crossings.
¢ Approved, 5-1, with Council member Studnicka opposed, engineering documents for the Eisenhower Crossings project.