GAME

DAY

: Lansing boys at Gardner
THE MATCHUP: No. 4-seed Gardner Edgerton (14-6) vs. No. 5-seed Lansing (11-9).
THE TIME: 7 p.m. today.
THE PLACE: Gardner-Edgerton High School.
WHAT'S AT STAKE: A berth in the 5 p.m. Friday substate championship game against the Mill Valley-Shawnee Heights winner at Highland Park in Topeka.
ABOUT LANSING: The Lions enter tonight's game having won eight of their last 10 games. Those two losses came by a combined three points, including a 42-40 loss to Mill Valley on a buzzer-beater. Senior Jeff Slater leads the Lions with an average of almost 16 points per game. he is the only starter averaging double-figures. Senior Chris Wagner (9.65 p.p.g.) and senior David Kern (9.0 p.p.g.) are the next two leading scorers.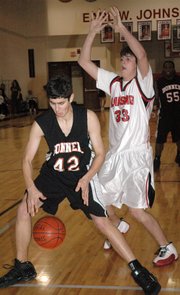 Lansing beats people by keeping games low-scoring and by playing stifling defense. Its primary weaknesses are a lack of size and inconsistent perimeter shooting, but guards Cody Mohan, Matt Warner and Wagner have been on fire heading into the game against Gardner.
ABOUT GARDNER: The Trailblazers have been the mark of consistency during the past two years. After winning 16 games during the regular season last year, they have 14 so far this year. That success has come despite losing former player Ryan Highfill to graduation. Highfill was the 6-foot guard who averaged more than 22 points per game last season. This year's club has used a balanced scoring attack to beat people. John Turpin, Kyle Newhouse, Connor Bechard and Derek Gage are the primary threats.
LAST YEAR REVISITED: Gardner bounced Lansing in the substate opener at G-E last year, 58-46. Highfill scored 35 points in that game on 11-for-14 shooting. If not for Highfill's offensive explosion, Lansing might have pulled off the upset. LHS led 13-7 after the first quarter before falling behind at halftim, 29-23. Lansing trailed just 46-42 with 3:10 left before Gardner pulled away.