Fort celebrates Black History Month
Lansing resident Joyce Williams, keynote speaker at Fort Leavenworth's African American/Black History Month Celebration, recalled the struggle for equality in her younger days.
Williams, who had grown up in Leavenworth, attended college in Boston in the 1960s. As a member of the Student Nonviolent Coordinating Committee, she took part in "Freedom Schools," lunch counter protests and other civil rights actions of the day.
"We were proactive. We knew that to go into segregated areas, the 'good citizens' would come after us and put us in jail," Williams recalled before a crowd of about 400 at the celebration at the fort's Frontier Conference Center.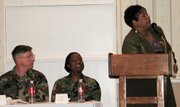 It was a yoke she and others embraced.
But her work wasn't limited to her college town. It extended to her hometown, too.
The Hollywood Theater in downtown Leavenworth was one of the locales targeted for change. Blacks at the time were restricted to sitting in the theater's balcony.
"We said, because we were big college students then, that we were going to integrate," Williams recalled. "So we marched right down to the front, sat there and looked at the movie - didn't have any fun because we were looking right up at the movie, and upstairs was a better place to sit because you could play kissy-face, huggy-bear and all sorts of things. : Well, not all sorts of things; we were younger then."
The protests moved onto Lawrence, Jefferson City, Mo., and throughout the region.
"It was about self-esteem, self-love, self worth," Williams said.
Williams said she and her cohorts gained strength for their protests from the black institutions in their lives: churches, schools, clubs, sororities and fraternities.
Those institutions were well represented at last week's celebration. The histories of the "Divine Nine" black sororities and fraternities were saluted at the luncheon, and tributes also were paid to black churches, the nation's historical black colleges and universities, Masons and Order of Eastern Star.
The contributions of notable black Americans also were highlighted, including that of Carter G. Woodson, the second black man to ever receive a doctorate from Harvard and the Father of Black History. In 1926, Woodson organized the first Negro History Week in the United States, which in the 1960s expanded to Black History Month.
The history lessons enlightened many, served as a reminder to others, and were a focal point for all.
Williams, who was a longtime guidance counselor at Leavenworth High School and now is a speaking instructor at Kansas City Kansas Community College, found the presentations inspiring, but she yearned for more.
"In all due respect to Dr. Carter G. Woodson : wouldn't it be beautiful thing to pass all this wonderful inspiration in our homes, in our schools, on the jobs, in our communities, that this information could be disseminated 365 days a year, because African-American history is American history," Williams said.