GAME

DAY

: Lansing girls vs. Mill Valley
THE MATCHUP: No. 3-seed Lansing (14-6) vs. No. 6-seed Mill Valley (9-11).
THE TIME: 7 p.m. today.
THE PLACE: Johnsmeyer Gymnasium at Lansing High School.
WHAT'S AT STAKE: A berth in the Class 5A substate championship game against the Shawnee Heights-Highland Park winner.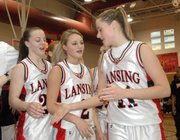 ABOUT LANSING: The Lions are having their best season in recent memory. After improving from seven wins two years ago to 10 last year, they've collected 14 victories so far this season. They also were placed second in the Kaw Valley League. Two of their losses are to Tonganoxie, the No. 1-ranked team in Class 4A.
The Lions are led by senior forward Amanda Radovich, one of the top scorers in the state at 17.5 points per game. Senior Rachel Darrow averages 11.5 points per game and is a threat to score both inside and outside. The same thing goes for senior Nichole Twitchel (10.0 p.p.g.). Meanwhile, sophomore point guard Katie Nietzke is the Lions' most lethal three-point shooter. She averages almost nine points per game.
Lansing has won nine of its last 11 games entering the postseason. That hot streak helped guarantee LHS tonight's home game. Lansing is 7-1 in Johnsmeyer Gymnasium this season. The lone setback was a 60-43 loss to Tonganoxie on Jan. 3.
ABOUT MILL VALLEY: The Jaguars might not look scary with their 9-11 record and eighth-place finish in the Kaw Valley League, but they have done plenty to catch the Lions' attention. Specifically, the Jaguars took the Lions to the wire both times the teams played this season. Lansing won both games by five points. The first meeting went to overtime. The last time they played, Mill Valley freshman Carly Santularia sank six three-pointers and scored a game-high 20 points.
WHAT'S NEXT: The winner of tonight's game will play the Shawnee Heights-Highland Park winner at 7:45 p.m. Saturday at Highland Park.