One step closer to state
LHS

girls complete trifecta against Mill Valley behind Radovich's 25 points
If the Lansing High girls basketball team had a particular flaw Thursday night, it was that the Lions were too pumped up.
But for the Lions, too pumped up has been far better than not pumped enough.
Lansing's early adrenaline rush may have contributed to a few extra turnovers and some inaccuracy from the free throw line against Mill Valley, but the bottom line was LHS was focused enough to lead from start to finish as it won its Class 5A substate opener at Johnsmeyer Gymnasium, 54-44. The victory was Lansing's third against Mill Valley this season. The first two meetings were decided by five points.
Lansing will play Shawnee Heights (15-5) at 7:45 p.m. Saturday at Highland Park High School in Topeka. The winner will advance to the state tournament.
Coming off the most successful regular season in recent memory, the Lions brought plenty of enthusiasm to the court Thursday night in front of a spirited home crowd.
Photo Gallery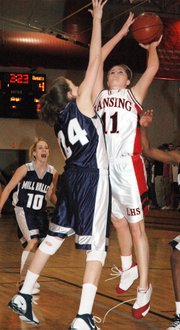 LHS girls hold off Mill Valley in substate opener
The Lansing High girls basketball team beat Mill Valley, 54-44, Thursday night at Johnsmeyer Gymnasium during the first round of the Class 5A substate tournament. LHS will play Shawnee Heights at 7:45 p.m. Saturday in the substate finals.
"We were super-focused. I think maybe we were a little too amped up there at the beginning. We were super-excited," senior forward Amanda Radovich said.
The Lions (15-6) bared their teeth early in the first quarter as they came out clicking on all cylinders. They looked to Radovich in the post right away. She scored their first eight points as they took an 8-2 lead. A few miscues allowed the Jaguars (9-12) to keep things close, though, and the Lions led just 12-8 after the first quarter.
Radovich and senior Nichole Twitchel keyed a 13-4 run early in the second quarter that gave Lansing its biggest lead of the game at 25-12 with 3 minutes, 39 seconds left in the first half. The Lions then had numerous chances to put the game away early, but they forced a few shots in the final minutes of the half. Meanwhile, Jaguar sophomore Kaitlen Stacy caught fire and allowed her squad to hang around. She scored 11 of the Jags' 13 points in the quarter as the Lions took a 32-23 lead into halftime.
Despite the deficit, Mill Valley showed no signs of letting up in the second half. It gradually plucked away at Lansing's lead throughout the third quarter until Stacy scored on a put-back with 2 minutes, 14 seconds left in the quarter to pull the Jaguars within 36-32. The Lions' Rachel Darrow answered with a three-pointer. A put-back by Radovich pushed the lead back to nine points, but the Jags closed the quarter on a 5-0 run to pull within 41-37 entering the fourth quarter.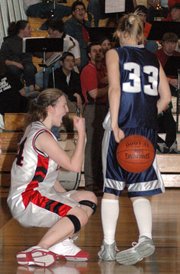 "We had a lapse at the end of the second quarter where we kind of let up and missed a few boards, and also in the middle of the third we kind of softened up," LHS coach Keith Andrews said. "But after that we toughened up and did a pretty good job."
Stacy brought Mill Valley within two points on her driving layup on the first possession of the final stanza, but that's when Lansing stepped up and decided to put the game away. Darrow scored on a bank shot after receiving a nice entry pass from her sister, Amanda Darrow. Then Elizabeth Cristiano fed an inbounds pass to Radovich for a lay-in. Twitchel sank a 17-footer the next time down the court that stretched the lead back out to 47-39. A three-point play by Radovich put the lead back to double-digits. The Lions made just four of 11 free throws during the final three minutes, but Twitchel forced three turnovers during that span to help preserve the victory.
"We survived their run and we came back and we stuck with it," Radovich said. "We're really good in those close games, and we just showed it at the end."
Radovich led all scorers with 25 points and eight rebounds. Rachel Darrow had 14 points and three steals. Twitchel scored nine points, grabbed seven rebounds and had four steals. Brittney Lang and Morgan Chiles scored two points apiece, and Nietzke chipped in two points, four steals and three assists.
Sophomore Kaitlen Stacy led Mill Valley with 19 points and junior Stanisha Garlington added 10. After torching Lansing for 20 points off six three-pointers during the last meeting, freshman Carly Santularia was held to just six points this time.
"We wanted to make sure (Santularia) only had 12 or less, and she had six, so we did a good job on her," Andrews said. "The kids played real good defense, I thought."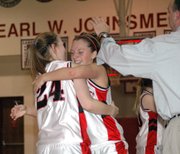 The victory Thursday moved Lansing into the substate championship game against Shawnee Heights. Heights advanced to the finals by beating Highland Park, 33-16, Thursday night. In that game, Heights led just 18-8 midway through the third quarter before pulling away down the stretch.
Although the T-Birds bring plenty of name recognition to the postseason - they've been to the state tournament seven years in a row - they're clearly not the T-Birds of old. Senior Jamie Stinson averages almost 13 points per game, but she is their lone player averaging double-figures. Their guards have struggled to knock down jump shots consistently.
Lansing's players said they won't take Heights lightly and are aware of how tough the T-Birds are year after year. Still, the Lions have their sights set on advancing to the state tournament.
"This is a goal that we set at the beginning of the year, and it's achievable," Rachel Darrow said. "It's like we've been saying, 'Why not us? Why can't we be the ones that end up at the state tournament?' This ride : this whole season has been amazing. I don't want it to stop."