Quest for state tournament begins tonight for
LHS

girls
Lansing High girls basketball coach Keith Andrews had just one question for his squad after it won its regular season finale Thursday night against Bonner Springs: "Why not us?"
Andrews' question referred to the Class 5A state basketball tournament and, specifically, Lansing's ability to make it there.
"Somebody always gets there who's unexpected. Somebody knocks off a higher seed, so why not have it be us this year?" Andrews said.
The substate bracket looks favorable for Lansing. The third-seed, LHS (14-6) plays at 7 p.m. today at home against sixth-seed Mill Valley (9-11) in the substate opener. The winner of that game will play the winner of second-seed Shawnee Heights (14-5) and seventh-seed Highland Park (5-15) at 7:45 p.m. Saturday at Highland Park.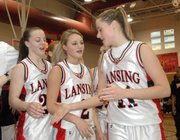 "We've got a home game with a team we should be able to compete with and beat," Andrews said. "Then we've got the better half of the draw from the other side. They're going to be good teams regardless, so we've still got to go out and play, but it's set up OK for us."
Lansing will have a tough contest tonight with Mill Valley. LHS won both meetings during the regular season, but both were close. The first went to overtime before Lansing pulled away for a 67-62 victory. The second was close wire-to-wire before LHS won, 58-53.
Lansing senior Rachel Darrow said it was important that the Lions forget that they've beaten the Jaguars twice before and focus on this game.
"Even though we've beaten them twice, that doesn't mean anything," she said. "They can be a road-block in what a lot of our dreams are, which is to be in the state tournament. We can't look past them. The games have been close, and if we look past them then we're done. We don't want that to be our last game. We want to have at least four more games. Focus is the key."
In order to win, Lansing can't be lacking in intensity. If so, Mill Valley freshman sharpshooter Carly Santularia will punish the Lions. She buried six three-pointers during the last meeting.
"We know that the little guard can shoot, and the post girls are active inside, so we've got to be ready to go there," Andrews said. "We just need to be real aggressive and come out ready to play.
"Beating them three times will be tough, but hopefully we're up to the challenge."
Senior Nichole Twitchel said playing the first round game at home would give the Lions a boost.
"I think it's going to help us a lot, definitely," she said. "It's a lot easier to play at home with the crowd behind us."
If Lansing wins tonight, that crowd will have an hour-long drive to Topeka to watch the Lions play in the substate finals. Their likely opponent would be the Shawnee Heights T-Birds, a squad that has struggled with its perimeter shooting all season.
The T-Birds have played numerous low-scoring games during the past month. In fact, they've scored 50 points or less in each of their last seven games and gone 4-3 during that span.
TIP-INS
¢ Lansing rejoined the state rankings this week. In the final Kansas Basketball Coaches Association poll of the year, LHS is ranked No. 10 in Class 5A. Potential substate foe Shawnee Heights is ranked No. 8. In the Class 4A poll, Tonganoxie climbed to No. 1 this week.
¢ All season long, Andrews has wanted his guards to feed the ball inside to senior forward Amanda Radovich. The statistics show that the Lions are more successful when their leading scorer (17.5 points per game) touches the ball a lot. In six losses this season, Radovich has averaged barely 16 points per game. In 14 victories this season, she has averaged more than 18 points per game. Throw out her season-low three-point effort against Mill Valley when she spent the game in foul trouble, and her average production in wins is well above 19 points per game.