Young to remain in jail, for now
Leavenworth — The woman accused of helping a convicted murderer escape from prison will be spending at least a little more time behind bars herself, her attorney indicated Friday.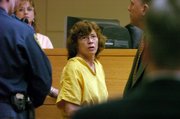 Toby Young, the 48-year-old prison volunteer charged with aiding and abetting aggravated escape and aiding a felon, is being held in the Leavenworth County Jail on $100,000 bond.
Young's attorney, Jim Yoakum, said after a brief court appearance Friday morning bond wouldn't be posted anytime soon.
"I don't anticipate her bonding out anytime prior to the next court hearing, March 17,"
Yoakum told a pack of reporters outside the Leavenworth County Justice Center. "You guys can go home, you don't have to camp out."
Young appeared Friday with Yoakum before Leavenworth County District Judge Frederick Stewart, who set a scheduling hearing in the case for 9 a.m. Friday, March 17.
Young will not contest the bond, her attorney said.
"Given the level of the alleged crime and the notoriety of the case, we really felt the court made a fair decision on the $100,000 bond, so we're not going to dispute that," Yoakum told reporters.
Yoakum, who said he had known Young's family "my whole life," said he had talked briefly with his client.
"She's doing good. She's glad to be back in Kansas," Yoakum said.
Young was the president of the Safe Harbor Prison Dog program at the prison. Authorities say that on Feb. 12, other inmates in the program loaded a dog crate containing convicted killer John M. Manard into the Safe Harbor van, and that Young drove the van out of the prison. Young's familiarity with a guard allowed the van to leave the prison grounds without being searched.
Manard and Young eluded authorities for 12 days, staying in a cabin in rural Alpine, Tenn., before their capture Feb. 24.
Authorities have said Young was intimately involved in the escape, the planning for which, they added, dated to late December.
Yoakum declined comment about whether Manard had manipulated Young into helping with escape, but noted Young "has no criminal history. She's never been in trouble with the law before."
Members of Young's family were in the audience of the packed courtroom but declined comment after the hearing.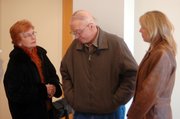 Yoakum said the family was "100 percent" behind Young. "They're just glad that she's safe," Yoakum said. "She was in a very dangerous situation for quite some time."
Young faces up to 32 months in prison if convicted, but Yoakum said if the case were to reach such a point, he would seek probation for his client.
"If there's some a conviction of if there's some kind of plea, absolutely we would argue for probation," he said.
Manard, meanwhile, has been returned to the Lansing Correctional Facility and placed in administrative segregation. Deborah Owens, a spokeswoman for County Attorney Frank Kohl, said Friday that Manard had not yet been formally charged in the escape and that no court date for his case had been set.
Manard is serving a life sentence for the 1996 murder of Donald England during a carjacking in Johnson County.