Dream dashed
Lions fall to T-Birds, 66-48, in substate finals
Topeka — Amanda Radovich tried to be strong. Rachel Darrow did too.
The tough-minded seniors whose basketball style always has been infused with enthusiasm and emotion never have liked showing weakness, but after Saturday night's 66-48 loss to Shawnee Heights in the Class 5A substate championship game, the seniors couldn't hold back the tears.
For Darrow, Radovich and the normally cool and collected Nichole Twitchel, their high school careers were over one step short of the state tournament. They'd guided the Lansing program so far in the past two years, but they'd hoped to take it a little farther.
The final score wouldn't indicate it, but they'd really come so close to winning. At one point they Lions held a nine-point lead. Heck, they held the T-Birds without a field goal for the first 7 minutes, 30 seconds of the game. They'd done so much right before it slipped away.
Photo Gallery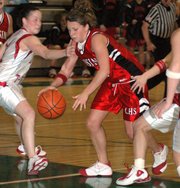 LHS girls fall in finals to Shawnee Heights
The Lansing High girls had their state tournament dreams cut short when they lost to Shawnee Heights in the Class 5A substate finals, 66-48.
"I think it makes it harder getting so close to your goal and falling one step short," Darrow said. "That was our goal all season was to make it to the state tournament, but (we're) one step short. Coach has said you've got to set your goals high, and we had a wide-open door and we just didn't take advantage of it. We didn't shut the door on them."
Lansing (15-7) knew that Heights wasn't a particularly good shooting team, and that proved to be the case in the first quarter. Radovich got involved early as she scored six of Lansing's first 10 points as the Lions raced to a 10-1 lead. Meanwhile, the T-Birds (16-5) turned the ball over on their first six possessions of the game and didn't even attempt a shot until 5 minutes, 29 seconds remained in the first quarter.
As tough as Lansing tried to play on defense, it wasn't tough enough. Heights began to drive to the basket, and each time Lansing players fouled. That allowed the T-Birds to climb back into the game without hitting a field goal.
Heights' first field goal was a three-pointer by senior Jamie Stinson with just 30 seconds left in the quarter. That bucket made the score 12-10. Two free throws by Stinson with five seconds left in the quarter tied the game and wiped out Lansing's impressive start.
"We were up and then kind of lost our swagger," LHS coach Keith Andrews said. "We were doing some things pretty good up to that point, and we kind of got away from the team concept and forced some things."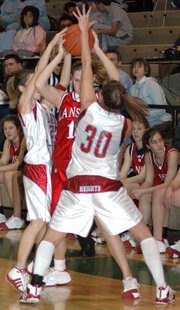 After closing the first quarter on a 9-0 run, Heights scored the first four points of the second quarter. A jump shot by Twitchel with 6 minutes, 43 seconds left in the quarter pulled Lansing back within 16-14, but Heights closed the quarter on a 15-8 run and took a 31-22 lead into halftime. Stinson, who averaged 12.8 points per game entering Saturday's game, had 15 points in the first half.
"They were on on their free-throws tonight, and we were just bailing Stinson out," Radovich said. "She was driving and we were hacking. If we'd just stayed strong and not given her those free throws, it might have been different."
Lansing's biggest mistakes in the first half were twofold. First, it allowed Heights to shoot too many free throws in the first half. The T-Birds sank 14 of 15 charities during the first 16 minutes. The second mistake - the one that cost the Lions dearly during games where they struggled the most during the regular season - was going away from Radovich. The 5-foot-11 forward had 10 points in the first half, but she attempted just six shots. Meanwhile, the guards fired at will from the perimeter and missed all nine of their three-point attempts. Sophomore point guard Katie Nietzke was zero-for-five from beyond the arc in the first half and didn't attempt a two-point shot in the first half.
Usually a sub-par shooting team, the T-Birds were given numerous opportunities to develop some confidence in the first half. That carried over into the final 16 minutes as they opened the third quarter on a 13-4 run and never looked back. They made eight of 11 shots in the third quarter and sank five of seven shots in the fourth quarter.
Lansing made just 15 of 50 shots while Heights was 21-for-44 from the field. Stinson led all scorers with 24 points. Radovich led Lansing with 16 points. Twitchel scored 14 and Darrow added 13. Morgan Chiles and Christine Cordes added two points apiece and Brittney Lang scored one.
SEAMAN 57, PAOLA 56
In the evening's opener, Paola and Topeka Seaman turned in a dandy of a game. The top-seed Panthers and No. 4-seed Vikings kept things close wire to wire. Seaman junior Breanna Lewis' lay-in with six seconds left gave the Vikings a dramatic 57-56 victory at Highland Park High School.
After erasing a seven-point deficit, Paola was in control for most of the second half. In fact, it led by as many as six points late in the third quarter. The Panthers shot themselves in the foot time and again at the free throw line, though, and failed to put the game away when they had the chance. Paola was just 11-for-23 on charities in the game.
Twice in the fourth quarter, Brittney Miller missed the front end of one-and-one's. So did Taelor Karr with 24 seconds left and the Panthers ahead by a point. That set up Lewis' game-winning bucket.
Miller led all scorers with 23 points. Karr scored 14 and Jessica Logan added 11 for Paola, which ended its season 19-3.
Raychel Boling led Seaman with 17 points. Lewis scored 14 and Aubree Gustin added 12. Seaman improved its record to 13-9 and advanced to the state tournament.