Boys basketball due for makeover next year
Gardner — For the last 90 seconds of the Lansing High boys basketball team's season-ending 77-53 loss to Gardner-Edgerton on March 1, LHS coach Don Allen looked out on the court and saw an unfamiliar sight.
He didn't see David Kern, Cody Mohan, Jeff Slater, Chris Wagner or Matt Warner running up and down the floor. They were seated next to Allen on the bench with the harsh reality setting in that their high school hoops careers were over. The five - the starting lineup for every game the past two seasons - all were seniors. They, along with seniors Javen Kelly and Austin Reynolds, watched from the sideline as their era of Lansing basketball quietly ended and a glimpse of the future began.
"It'll be real interesting," Allen said of what next year holds for Lansing.
The Lions ended the 2005-2006 season with an 11-10 record, but it loses its top five scorers and top five players in minutes played the past two years.
Of the players on the court at the end of the game against Gardner - juniors Jeff Jackson, J.T. Collins, Ryan Willcott, Kyle Miller and sophomore Stephen Didde - only Jackson has played significant varsity minutes.
Jackson was the sixth man in a six-man rotation last year when he averaged barely 1.5 points per game. This year he again was the sixth man, but he boosted his point production to 4.4 points per game in increased minutes.
Jackson's statistics are a bit deceiving, given his role on the team. He was not expected to be a scorer for the Lions, though he had his moments. He scored a career-high 14 points in the second game of the year - a 74-55 victory over Harrisonville (Mo.). He also scored 12 points in a close loss to Atchison. Jackson finished the regular season strong, too. He single-handedly turned the game around for Lansing in its come-from-behind victory against Turner when he scored nine points before spraining an ankle that slowed him the rest of the season.
Allen said Jackson will be counted on heavily next year.
"He has an opportunity to come in and be one of the leaders for us next year," Allen said. "I think he's looking forward to that role, and it's going to be there for him."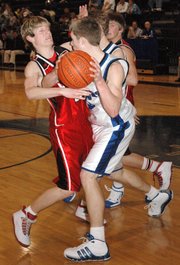 Lansing's only other returner with many significant varsity minutes will be sophomore Stephen Didde. Didde started the year strong on the junior varsity and was rewarded for his effort with varsity minutes.
Didde has become known for his relentless work ethic. Allen said he expected to see Didde make significant contributions playing next to Jackson in the post next year.
"The bottom line is he's going to work as hard as anybody, if not harder than most of them," Allen said. "He's not scared of it, and that's half the battle right there. If you ask Stephen to run through the wall, he's going to run through it. If he can't do it the first time, he'll do it the second time. And if he can't do it the second time, he'll do it the third. The kid wants to work hard and he wants to be a player. He's got a lot of potential, and he's got a real opportunity to be pretty good for us."
Beyond Jackson and Didde, the rest of Lansing's future is an incomplete puzzle. Collins and Willcott have seen sparse varsity minutes the two years. Miller, who moved to Lansing from California during the summer, played occasional varsity minutes.
Meanwhile, the junior varsity and freshman squads both had strong seasons and boast a handful of players from each team that will try to contend for varsity minutes next year.
Allen said he is looking forward to the challenge of revamping his squad next year.
"It's going to be exciting," he said. "It'll be real interesting. We'll take a couple days away from things and then sit down, regroup and start talking about summer plans and looking at kids again and finding out how things are going to shape up."