Building industry robust throughout area
January permit numbers underscore continued growth in northeast Kansas, officials say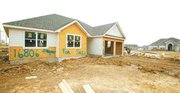 The Kansas City metropolitan area saw healthy building permit numbers for January, up 4 percent over the same month last year, from 694 to 725. Overall, 5 percent fewer permits were issued in January throughout Wyandotte County than in the previous January, but local officials are bullish about development overall. All permits were for single-family residences.
Basehor saw one fewer permit issued this January, with a total of five. Basehor Chamber of Commerce board member Debbie Breuer said the numbers don't worry her.
"They're going to stay pretty constant from last year if not more," she said. "A lot of builders are trying to go forward with lots of stuff in construction. I know there's a lot of land already platted and a lot of new ones coming."
Tonganoxie issued two building permits in January, one more than in January 2005. Tonganoxie City Administrator Mike Yanez said he expected construction and development in his town to boom this year.
"The January numbers are just the calm before the storm," he said.
"We got houses being built all over the place. "Construction is going crazy all over Tonganoxie."
Both Yanez and Mayor Dave Taylor predicted healthy growth resulting from the recently announced turnpike interchange that will be built south of Tonganoxie.
"It will be a big boom," Taylor said. "I think it'll be the biggest thing in Leavenworth (County) since the fort went in," Taylor said.
Shawnee saw a 54 percent decrease in January building permits issued, from 39 to 18.
City manager Carol Gonzalez said that didn't worry her.
"The bulk of our development came earlier" than other cities in the Kansas City metro area, she said.
"Some of it just has to do with availability of land and a new market," Gonzalez said. "We've had the rooftops come and our focus is now on businesses to support those rooftops."
Gonzalez said the city has seen "amazing growth" in single-family residences but that multi-family residential buildings such as town homes and condos would continue to grow, and that a number of such developments were under way in Shawnee.
Bonner Springs was up from zero to four permits.
City manager John Helin said, "It's because we've had great construction weather."
Helin predicted that single-family residential building permits would continue to make up most new construction in town.
Edwardsville's numbers shrank from seven to two, but Mayor Stephanie Eickhoff said she still was optimistic about development in Edwardsville.
"People are moving here form the entire metro area. They like what they see; they like the free trash service and they like the small community," she said.
Kansas City, Kan., issued one fewer permit than in January 2005 with a total of 33. Mayor Joe Reardon's spokesman Don Denney said, "We're still enjoying some healthy growth."
Denney said single-family residential building permits would continue to be "a major part" of new construction in the city.