Kessler wins first medal in last trip to state meet
Wichita — Dennis Kessler leaned on the wall surrounding the wrestling mats Saturday afternoon at the Class 5A state wrestling tournament about an hour after his senior season as a Lansing High wrestler had ended.
Kessler watched while tournament staff members set up the Kansas Coliseum floor for the evening's championship matches, and as he stood there he pondered his wrestling career.
In many ways, this was the building where his career began. A wrestler since he was five years old, Kessler's father brought him to compete in a youth tournament at the Coliseum when he was just six.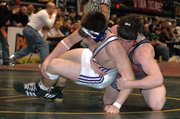 "I remember my dad holding me after I lost one of my matches," Kessler said, a smile beginning to erase the look of frustration he'd had for most of the day after losing two matches and placing sixth at 171 pounds.
Things have changed a bit in the 12 years since Kessler first competed at the Coliseum. He's too big for his dad to carry around the building, and his dad no longer is his coach. Lansing High coach Ron Averill has handled the coaching duties for the past few years, but Kessler's parents and younger sister have been his most loyal supporters.
Their cheers echoed through the coliseum Friday evening when Kessler erased a 6-1 deficit to defeat Pittsburg's Christian Lovell, 12-7, to advance to the medal rounds for the first time in his prep career. They were there again Saturday to console him after a pair of career-ending losses.
Kessler's focus most of the afternoon had been on his 11-8 loss to Bishop Carroll's Ben Meyer in the consolation semifinals and his third-period loss by fall to Matt Rice of Topeka Seaman that ended his career, but he couldn't help but smile at the thought of becoming a state medalist for the first time.
Kessler was a four-time state qualifier at LHS, but he left empty-handed on his first three trips at 135, 140 and 152 pounds. In his final trip to state, he finally earned his medal.
"It makes me feel good," Kessler said of medaling. "But I feel disappointed because of the place that I'm getting. My last two matches I tried just about everything I could, but nothing was working."
Kessler entered state ranked No. 3 in the state. Still, he had hoped for to be a state champion. Then, when eventual state champion Leo Wetta of Kapaun-Mt. Carmel beat Kessler in the championship semifinals, 10-3, Kessler turned his focus to proving the critics right by placing third. That didn't work out either.
"When you get to state, records don't mean anything," said Kessler, who finished his season with a 28-4 record. "Nothing ever matters at state. Everybody goes after it just as hard as the next guy because everybody wants to place. Everybody wants a medal."
Kessler wasn't certain what the walk to the medal stand would mean to him. He said he'd probably think about how he should have done better.
Averill thought different.
"I'm just excited for what he has been able to accomplish this year, and that trip up to the medal stand is going to take all of the sting out," Averill said. "Once he gets that medal, that boy is going to be ear-to-ear."
Reached moments after Kessler received his medal, it turned out the coach was right.
"It feels real good," Kessler said with a smile. "Real good."