Officer earns valor award
Lansing Police Officer Sundae Holler received a valor award for diffusing a potentially dangerous situation last month in a crowded area at Lansing High School.
Chief Steve Wayman presented the award to Holler last week during the Lansing City Council meeting.
Wayman said police had received a report of an out-of-control student at LHS just after noon on Feb. 9.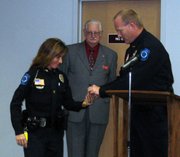 When Holler arrived, she encountered the student and Principal Steve Dike in the school's commons area, which was filled with students for lunch. As Holler approached, the student produced a pair of large scissors. Holler drew her Taser and talked the youth into putting down the scissors. No one was harmed, and the student was escorted away by other police who had arrived.
Wayman dubbed Holler's actions "exemplary" and noted school officials also had heaped praise on Holler for her actions.
"It had the chance of becoming a much more dangerous and deadly situation than it actually was," Wayman said.
Council President Kenneth Ketchum presided over the meeting in the absence of Mayor Kenneth Bernard. Council member Robert Ulin also was absent.
In other action Thursday, the council:
¢ Heard a report from Richard O'Donnell, basketball commissioner, on this year's program. O'Donnell said 366 children participated in this year's program, up from 267 children in 2005. "This has been the best year we've seen," O'Donnell said.
¢ Approved on 6-0 votes a resolution and ordinance committing the city to issuing $5.465 million in general obligation bonds. The bonds will pay for the city's $2.8 million share of the $13.7 million Main Street System Enhancement program. They'll also allow the city to refinance outstanding bonds used for construction of West Mary Street in 2001. Lower interest rates on the refinanced bonds will allow the city to save an estimated $60,000, even after paying fees to the city's bond counsel, the council was told.
¢ Approved, 6-0, the appointment of Patty Schmidling, general manager of Condotels Suites, and reappointment of Mayor Kenneth Bernard to the Convention & Tourism Committee.
¢ On a 6-0 vote directed the mayor to enter into a contract with McAfee, Henderson and Strick for design services for improvements to Gamble Street from Ida Street to the south boundary of the Carriage Hills Plaza. The city is improving the street to provide a second connection to the planned shopping center and to alleviate future congestion at Main Street and Express Drive.