One step short
Best season since 1999 ends one game shy of state
Topeka — A season of promise, high expectations and numerous strides forward ended in familiar fashion Saturday night as tears of sadness trickled down the cheeks of the Lansing High girls basketball players.
This year's season-ending loss may have stung worse than those in previous years, though, because of how far the Lions came and how realistic their hopes of a state tournament trip were.
Still, when they had their chance to put away the Shawnee Heights T-Birds early in Saturday's Class 5A substate championship game at Highland Park, the Lions didn't do it. They allowed the T-Birds to come back, take over and pull away for a 66-48 victory.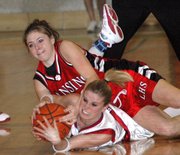 "I think it makes it harder getting so close to your goal and falling one step short," senior Rachel Darrow said. "That was our goal all season was to make it to the state tournament, but (we're) one step short. Coach has said you've got to set your goals high, and we had a wide-open door and we just didn't take advantage of it. We didn't shut the door on them."
Lansing (15-7) forced Heights to turn the ball over on its first six possessions of the game and held it without a field goal for the first 7 minutes, 30 seconds. LHS was unable to protect its early 10-1 lead, though. It sent Heights senior Jamie Stinson to the free throw line repeatedly and allowed her to erase the early deficit.
Once Heights found a comfort zone, it took control of the game and never relinquished the lead. By the end of the game, the T-Birds (16-5) held a sizable lead and earned their eighth straight trip to the state tournament.
"They've got a good team," LHS coach Keith Andrews said. "They're a solid program. That's the goal for us. We've had a good season. We've got to get to where that program is what we have so we can get that end result."
Andrews has Lansing on the right track in its goal of building a strong program. LHS won 10 games last year in Andrews' first season at the helm and then upped that total to 15 this season. It was the first winning season for LHS girls basketball since the 1998-99 team went 15-7 and lost in the second round of the Class 4A substate tournament.
A big part of Lansing's success the past two seasons has been the steady play of seniors Amanda Radovich, Nichole Twitchel and Darrow. The seniors said they were proud of how far they took the program, but they wished they could have made it to state.
"This year has been an incredible ride," Radovich said. "All four years have been a good ride, but this year just capped it off. My senior year couldn't have been better. To go 15-7, you can't really complain with that. I love these girls. They're going to do great next year."
How the Lions fare next year is uncertain. After all, the three seniors did the bulk of the scoring the past two years. Sophomore point guard Katie Nietzke will be the top returning scorer next year after averaging 7.77 points per game this year. The next highest returning scorers will be sophomores Amanda Darrow (2.86) and Morgan Chiles (2.09).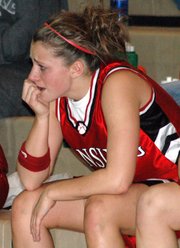 In addition to Nietzke, Chiles and Amanda Darrow, a number of other experienced players will return. Senior Elizabeth Cristiano started every game this year. Sophomore Christine Cordes played significant minutes as a backup forward and showed major strides during the last half of the season. Freshman backup point guard Brittney Lang also played substantial minutes.
Andrews said it would be important for all of his returning players to make a strong commitment to the program this summer and take the necessary steps to improve all aspects of their game if the Lions hope to show more progress next year.
"We've got to get in the gym and shoot, first of all," Andrews said. "We've got to get shots up. We've got to develop better offensive moves off the dribble. We've got to get in the weight room and get stronger. There's not a kid out there who was too strong. And they've all got to get stronger with the ball and going to the hole."
Andrews said it also would be important for his players to spend a lot of time playing pick-up ball together, as well as playing club ball in the summer, in order to improve as a team.
"We've got a great nucleus," he said. "It's going to be hard to replace about 65 percent of your offense with those seniors."