For senior wrestler, 'It's good to place'
Wichita — Two years ago, few people would've given Logan Ryan a chance to compete at the state wrestling tournament.
Nobody would've expected him to be a state medalist.
But that's what happened Saturday at the Class 5A state wrestling tournament. Two years after winning just a handful of matches as a Lansing High sophomore, Ryan ended his senior season as the sixth-place medalist at 215 pounds.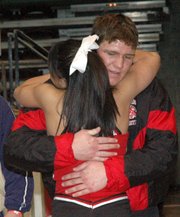 "One of the most exciting things as a coach is to see the kids blossom like that through their seasons," LHS coach Ron Averill said. "Sometimes it's a one- or two-year turnaround like in Logan's case."
Ryan certainly wasn't a wrestler to be feared during his first two seasons. He wrestled at 275 pounds because somebody needed to fill the spot, but he gave up more than 50 pounds to his competitors. He also wasn't very polished and he lacked confidence.
Everything changed his junior year. He wrestled like a new man and dominated most of his foes. He ended up qualifying for state and came within one victory of becoming a state medalist.
Finally, he made the walk to the medal stand Saturday night at the Kansas Coliseum.
"It's good to place," Ryan said, "But it's not where I wanted to be."
Ryan expected to place higher. He'd spent the entire season in the state rankings, and he backed up the ranking with his steady performance. He was the Kaw Valley League runner-up and the Class 5A regional champion this season.
Ryan won his first two matches at state by pin and a 2-1 decision before falling in the semifinals to state runner-up James Sparks of Emporia, 9-4. He then was defeated, 5-3, by third-place finisher Cole Zenisek of Kapaun-Mt. Carmel before ultimately placing sixth.
"I wrestled well. I just got gassed too quick," Ryan said of his tough losses in his final matches. He finished the season with a 36-7 record.