Two Lansing Middle School sixth-graders have climbed the 296 steps of the Statehouse dome, and they have the T-shirts to prove it.
Lauren Hamilton and Lacey Aufdemberge had the opportunity to visit Topeka on Feb. 21, when they served as pages at the Statehouse for State Rep. Kenny Wilk, R-Lansing.
As pages, the girls helped lawmakers perform simple tasks - they said they set up nameplates in one room prior to a discussion, mailed a letter and made copies of bills.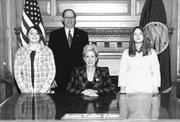 They also got to experience a day in the life of a legislator, observing the House of Representatives.
"It was pretty interesting to see how a regular day in (the Legislature) goes," Lauren said. "I think it's a pretty neat experience to see how laws are passed."
Though Lauren and Lacey agreed that it was hard to hear what was going on from their seats in a corner of the chamber, they agreed it was a learning experience.
"I really didn't know what they did," Lauren said.
After watching the representatives, Lacey said becoming one of them probably wasn't in her future.
"I don't think I would like it. I think it would be boring, kind of," she said. "I don't like sitting and listening to people for that long."
Luckily, the girls didn't have to listen to speeches all day. They met Gov. Kathleen Sebelius in the morning, and in the afternoon, they toured the Capitol and walked up all 296 steps to the Capitol dome.
Both girls said they enjoyed the view from the top of the building. Once they returned to ground level, they bought T-shirts that read, "I walked 296 steps today - what did you do?"
"It was pretty cool," Lacey said. "The dome part was probably the funnest."
Lauren's mother, Anna Hamilton, set up the trip for the girls. Hamilton cleans the house of Kenny and Darlene Wilk, and she said Darlene Wilk helped make the arrangements. Hamilton said she thought it was important for the girls to have an opportunity to learn outside of the classroom.
Both girls seemed to enjoy the opportunity as more than a day out of school - both said they'd like to repeat the experience next year.
Lauren also said she might talk about her experience in her gifted and social studies classes.