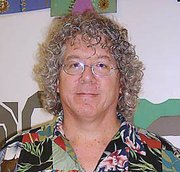 Ralph Trites, art teacher at Lansing Elementary School for 19 years, had to learn to see twice.
With a severe case of amblyopia (commonly known as lazy eye), Trites had almost no vision in one eye and in effect was completely blind for two years growing up.
"Of course, that is part of the contradiction of being the art teacher who is blind in one eye : the paradox," Trites said.
"All third and fourth grade I wore a patch over my left eye - wait," Trites said, putting his hand over each eye one at a time, " : over my right eye, to strengthen my left one."
"Frankly, I couldn't see when I first had it on, that's how bad it was. My brother had to lead me to school, I remember that."
The patch forced his weak eye to grow stronger, and in less than two years, Trites could see better than he had ever seen in his life.
Only a few years after regaining his eyesight, Trites was sure that he had found his calling: teaching art.
"When I was in high school, I met a wonderful woman named Anna Marie Coveny, who still teaches at the University of Illinois, Decatur," Trites said. "She was very influential to the point where I decided that at 16 years of age what I really wanted to do was become an art teacher. She was a very positive influence in my life."
Coveny's classroom was a safe haven for Trites, something that he aspires to reproduce for the nearly 550 children he instructs, whom he said are the reason he has continued teaching.
Name: Ralph Trites
Address: Olathe
Occupation: Elementary art teacher
Graduate of: Bethany College, Lindsborg
Family: Wife, Barbara, of over 25 years; son, Andrew, 19; daughters Rebecca, 14, and Elizabeth, 11.
How long have you lived in Lansing and what brought you here? Teaching elementary art brought me to Lansing and I love the support I receive from my fellow teachers, the administration and the parents, and of course the kids!
What do you like most about Lansing? The families! The children make it fun to come to school each and every day. I honor those who voted for the bond issue to build a new school. Seeing (not far) into the future it will be well used and a delight to be in.
What do you do for fun? I drum. I bake. I work and help with the Mankind Project of Kansas City. It is a great organization where I have learned about how to be a better version of me.
What would surprise people about you? I don't think there is much that would surprise people. I see myself as an honest guy who tells it pretty much the way it is. (OK - I am a Sudoku fiend).