Backflow backlash
Extra charges related to valve installation criticized
Lan-Del Water District's ongoing transition to new meters includes a long-planned addition of a backflow prevention valve that is forcing some residents to purchase an expensive piece of hardware for their home water heater - or face a possibly messy consequence.
Phil Chiles, chair of Lan-Del, said the district had planned to install backflow valves in the area nearly 20 years ago and decided to include the upgrade with the installation of its new water meters.
But as the new meters and valves are being installed, residents have complained that they received little notification prior to the procedure and are angry they have to pay hundreds of dollars to accommodate the new valve.
Chiles is scheduled to address Lansing City Council on April 6 to clear up confusion.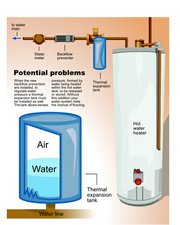 The problem came to Council member Don Studnicka's attention last month when he had his hot water heater replaced. The plumber informed Studnicka that he was required to install an additional $300 thermal-expansion tank with his new water heater.
The purpose of the backflow valves is to prevent potentially hazardous water from being siphoned back into the public supply, should pressure drop in the main system. Such an occurrence can happen during a time of high water usage, such as a fire or even when the Lansing Correctional Facility runs its laundry facilities.
But preventing residential water from returning to the main can result in disastrous pressure increases in the home.
Studnicka said he was completely in the dark about the new valves, and, as a city official, he said he should have been acquainted with the plans before they began.
"My biggest complaint was that as a citizen, I didn't know anything about this," Studnicka said. "I didn't get any notification, I didn't know anything about it. And the fact that I work with the city kind of really upset me."
The only information that Studnicka received was dated later than the day the plumber informed him of the situation.
"I'm almost mad to the point that I'm going to really hang somebody," Studnicka said. "I had this done on the ninth of February, and the letter I received through the city was dated the 15th of February - of course, that just came through the city - and the memo I got from the city staff was dated the 16th (of February)."
PLUMB IRONY
Studnicka was forced to pay an extra $292.52 the day he replaced his water heater, yet for some, the consequences have cost even more.
After Lan-Del installed the valve at his home, Mike Satriano, who has been a plumber for 20 years, returned from work to find a flooded bathroom at his house.
"I came home for lunch one day and I heard water running in my house," Satriano said. "I ran to my downstairs bathroom, and I had water all over my floor."
Satriano learned from his neighbor that Lan-Del had replaced his water meter and installed the new valve. Like Studnicka, Satriano said he had received no prior notice of the project. He had few options at the time.
"(I had to) leave my water shut off for the day, go back to work, come home, clean my mess up, and I went to Lan-Del water department and I kind of ripped on them pretty hard," Satriano said. "They said, 'Well, we sent letters out.' And I said, 'I've never received a letter.' Well, days later I received a letter."
Satriano said he thought the water district had been negligent in communicating the upgrades to residents - and in taking responsibility for the consequences.
"Who's to blame here? I had wall damage, I had to clean the floors, I had two or three hours of cleaning up water," Satriano said. "I think the thing that makes me more mad than anything else is that I've never received an apology. Not a letter or anything."
LONG-PLANNED PROJECT
Chiles said he had been puzzled by the complaints Lan-Del had received because the water district began installing check valves nearly 20 years ago. It even received a state mandate requiring inclusion of the valves as part of its policy.
"We've been installing the double-check valves since 1987," Chiles said. "This isn't something new. It's primarily an issue of public safety."
Chiles attributes the lack of information to the turnover of city and water district personnel since the policy went active. He said all patrons are notified in writing 30 days before the installation.
"To the best of my knowledge, we have sent out the letters to all homeowners before we have gone in," Chiles said. "I am not aware of anyone that has had a problem along the lines of just not being notified."
The lack of information on both sides is specifically what Studnicka hopes to resolve at the April 6 City Council meeting, where Chiles will speak to such concerns. Studnicka said he hoped to shed some light on the situation for the entire community.
"I don't know when this was started, I don't know when Lan-Del made the decision. Hopefully : I'll find out," Studnicka said. "I don't know how they are proceeding, you know. I'm going to ask the hard questions."