Big Red holds on
Two Lansing squads go to the wire in tournament title showdown
The gym at Lansing Activities Center shook with intensity as the game clock ticked into the final minute of the 2006 Leavenworth/Lansing basketball tournament fifth- and sixth-grade boys championship game.
In Sunday's all-Lansing final, the Lansing Big Red and Lansing Blue would take this one to the wire. Danny Krieger buried a three-pointer with 59 seconds left to pull Blue within two points, but a fast-break layup by the Big Red's Adam Patterson in the final seconds put the game away.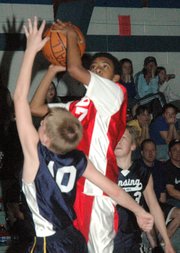 Lansing Big Red 36, Lansing Blue 32.
"Pure desire and heart won the game for us," Big Red assistant coach Doug Gwartney said.
That's exactly what it took to fend off a stiff challenge from Lansing Blue. The intensity was high and effort at a maximum from both squads from start to finish.
Lansing Blue scored the first five points of the game as Krieger hit a jumper and Preston Padgett added a jump shot and a free throw. The Big Red responded with an 8-0 run to close the quarter, though, as Royal Gatson hit a pair of free throws, Sam McNeill swished a pull-up jumper and Grant Greenberg added a pair of buckets.
The Big Red stretched their lead to 12-5 early in the second quarter as Dillon Francis swished a 15-footer and Gatson scored on a floater in the lane.
Lansing Blue wasn't about to be blown out, though. Instead, it closed the quarter with a flurry of buckets and trailed just 17-15 at halftime.
The Blue's momentum didn't stall out during intermission. Instead, it scored the first three points of the third quarter on a free throw from Cody Glick and a put-back by Padgett to take an 18-17 lead.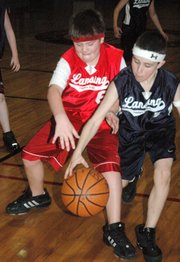 "They came out at halftime and they switched up their defense," Big Red coach and recreation league basketball commissioner Rich O'Donnell said of Lansing Blue. "All year they played a 1-3-1 (zone), and they switched up to a 2-3. We were sitting there trying to figure out what offense to run so we could penetrate that, because it's tough to penetrate when a team just sits back in that zone."
The answer was to let Nick Hughes shoot. Hughes snapped the Big Red's five-minute scoring drought with a pair of jumpers and a free throw that gave his squad a 22-18 lead entering the fourth quarter.
Back-to-back buckets by Francis and Greenberg gave the Big Red an eight-point lead early in the fourth quarter, but Lansing Blue marched right back. Padgett scored on a put-back, and Brad Brown scored seven in a row to pull his squad within 32-27. Another put-back by Padgett made it a three-point game with 2:45 to go.
Gatson's runner in the lane with 2:30 remaining pushed the lead back to five points and gave the Big Red some breathing room, but Krieger's trey in the final minute brought the crowd to its feet for the furious final minute.
"This is always a challenge at the end of our season and see how much these kids have learned," Gwartney said.
In addition to Patterson, Gatson, McNeill, Greenberg, Francis and Hughes, other Big Red players were Jason McAlexander, Lorenzo Charlton, Caullen Sasnett and James Howey. They were coached by O'Donnell and Gwartney.
Lansing Blue team members were Krieger, Padgett, Glick, Brown, Jake Nye, Ryan Dillon, Aaron Van Voorhis, Caleb Counts, Nathan Hawley and Brian Courtney. They were coached by Brian Schwanz and Tim King.