Courtney Nicole Elliott and Spencer Thomas Rogers were married Oct. 1, 2005, at Immaculate Conception Church, Leavenworth, with Father David McEvoy officiating.
The bride is the daughter of Chris and Joy Elliott, Leavenworth; the groom is the son of Rick and Colleen Rogers, Lansing.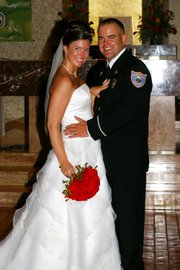 Matron of honor was Hope Crafton; bridesmaids were Lauren Bristow, Diedre Bieber and Mel Ferree. The bride's personal attendants were Jackie Horn and Lou Anne Nesheim, aunt and godmother of the bride.
Best man was Chad Rogers, brother of the groom; groomsmen were Scott Elliott, brother of the bride, Casey Worrall and Bo Waun. Ushers were Walter Terron, Brandon Pettis, Chris Wolters and Brian Williams, all fellow firefighter brothers of the groom.
Flower girls were Audrey Wheaton, cousin of the groom, and Lillian Elliott, cousin of the bride.
Ring bearers were Evin Wheaton, cousin of the groom, and Tyler Williams.
Guestbook attendants were Chelsea Rissmiller and Amber Morehead. Candle lighters were Katlin and Cheyenne Spain, cousins of the groom. Soloist was Ed Rogers, accompanied by the bride's cousin, Katie Duffin, and Carol Schmidt.
A reception followed at University of Saint Mary.
After a honeymoon to St. Lucia, the newlyweds are at home in Tonganoxie.
The bride, a 2002 graduate of the University of Kansas, is a human resources specialist for the Department of Veterans Affairs in Topeka. The groom, who attended Hutchinson Community College and Johnson County Community College, is a firefighter with the city of Shawnee.