Friendship aids in college search
Amaral, Terrill to remain teammates at Highland Community College
When Jeff Terrill moved to Lansing for his junior year of high school, he knew he had the talent to make an immediate impact on Lansing High's varsity baseball time.
He wasn't sure, however, how the returning players would accept him.
That changed on the first day of practice when classmate Mike Amaral greeted him. The two quickly became best friends.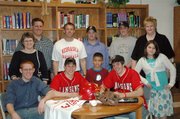 "Thick as thieves," Terrill said of their friendship. "We're closer than brothers. When we're not together, people ask where the other one is."
When people want to find Terrill and Amaral next year, they'll know right where to look. The pair signed letters-of-intent on Feb. 27 to play college baseball at Highland Community College in Highland, Kan.
Knowing they'd be able to be teammates in college made it easier to choose Highland, both said.
"If you go by yourself, you'll be a lot more nervous, but now you're going with somebody who's your best friend, so it will be a lot easier to show what you've got," Amaral said. "You know what you can do, and that person is going to push you to go as far as you can."
LHS assistant coach Jake Hanson coached Amaral and Terrill during the summer with the Lansing Cavalry. He saw both players endure their share of ups and downs - whether it was Terrill recovering from being beaned in the hand multiple times, or Amaral battling a hitting slump - and he watched them pick each other up during those tough times. Hanson said that would help them at the college level.
"I think (going to college together) will help their chances of being successful," he said. "It's going to be fantastic for them. Hopefully they will continue to motivate each other to stick with it, and then hopefully they'll have an opportunity after that to go (to a four-year school). It's a great opportunity for them."
Hanson said both players had plenty to offer at the college level.
For Amaral, his greatest strength is that he's an intelligent pitcher with a great understanding of the game. He also has been solid as both a starter and a middle reliever throughout his career. That's why he threw more innings than any other pitcher on the Cavalry roster over the course of the past three summers.
"Minimally, he was going to give you a nice, solid performance, but there were times he would go out and he was dominant, even against some very good teams," Hanson said. "Knowing him since he was a freshman, he has improved greatly. Everything has improved. His velocity has improved. His location has improved. But where I've seen the biggest improvement is his knowledge. He's a pretty smart pitcher now."
Amaral's strength is pitching, but Terrill is a threat all over the field. He was one of Lansing's top pitchers last year during the high school and summer seasons, and he also played almost every position in the infield.
"Jeff's a good athlete," first-year LHS head coach Troy Andrews said. "I can throw him just about anywhere. Behind the plate. On the mound. In the infield. He may even find himself in the outfield a little bit because we're short on that position right now."
Although he's good with the glove, Terrill's greatest strength has been his bat. He led both LHS and the Cavalry in home runs last year, despite being only about 5-foot-11 and 155 pounds.
Terrill said his goal this season is to bat .400 and hit seven home runs.
"He kind of surprises pitchers a little bit by his size, but his bat is really quick," Andrews said. "He can put a charge in the ball."
Although both players have skills that will help in their transition to college baseball, their current focus is on helping Lansing High advance to the Class 5A state tournament. Amaral and Terrill, along with fellow seniors Cody Mohan and Chris Wagner, make up a veteran pitching staff that is expected to be the strength of the Lions' squad.
"We're going to have some young kids that are going to fill some holes that don't have varsity time," Andrews said. "I'm glad to have this group of seniors as far as leaders and taking those kids to that next step and getting them ready."
For Terrill, the next step - a trip to state - is the ultimate goal. He said anything less will be unacceptable. Lansing fell one victory short of advancing to the state tournament each of the past two years, and he said he didn't want to experience the same fate this season.
"I'm willing to do whatever I can do to keep us out of that situation and do the best we can this year," he said.