LHS

girls land three on league hoops squad
It came as little surprise to Lansing High girls basketball coach when he found out three of his players had received postseason honors.
Lansing went 15-7 this season, placed second in the Kaw Valley League and had its best year since 1999, so he said it was fitting that a few Lions would earn All-League honors.
Seniors Amanda Radovich and Rachel Darrow both were named All-Kaw Valley League for their efforts on the hardwood. Senior Nichole Twitchel was an honorable mention selection.
"I was hoping that all three would get something," Andrews said. "It was a pretty good showing."
Andrews said it was fitting that all three seniors would be recognized because it was their leadership and consistent play that helped make Lansing a contender in the KVL.
"All three of them had high expectations and high hopes, and they were really strong-willed kids," he said. "That carried through to the all-league selections, as well as to getting us where we want to be."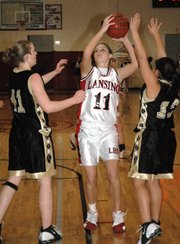 Tonganoxie, which won its second straight league crown, had three players on the All-KVL squad. Lansing was the only other team to have three players recognized.
"We're getting closer to our goal," Andrews said. "We haven't arrived yet, but this shows we're getting pretty close : that the entire work over the two-year process is getting closer to where we want to be. We want to have a reputation like Shawnee Heights has (eight straight state tournament appearances), and we want to get a reputation of being a dominant team in the league. Those are the goals for the program, and kids making plays makes goals for the program work."
The three seniors were consistent playmakers all season. Radovich, a two-time All-KVL selection, was the most consistent playmaker. She was one of the top scorers in the state with an average of 17.77 points per game. She also was a steady rebounder and defender. Her all-around play made her the second-leading vote-getter in the league behind Tonganoxie's Ali Pistora.
Darrow was Lansing's No. 2 scorer at almost 12 points per game, and she was a threat from both inside and from beyond the arc. In addition, she was a consistent presence on defense.
Twitchel was the Lions' top perimeter defender, with her quick reflexes fitting her nickname "Twitch." She started the season slow because of a bout with the flu, but she finished with a flurry and averaged more than 10 points per game.
"I think Nichole Twitchel, the last 10 or 12 games, was as consistent as anybody for us," Andrews said. "If she'd gotten a little better start, she would've been all-league, too."
In order to carry on the work started by the seniors, Andrews said younger players would have to step up next season. Among those returning with extensive varsity experience are sophomores Katie Nietzke, Amanda Darrow, Morgan Chiles, Christine Cordes, junior Elizabeth Cristiano and freshman Brittney Lang.
"There are a lot of gaps with these three seniors leaving," Andrews said. "But I'm sure we'll have people step up and fill those roles."
All League
Ali Pistora, Tonganoxie
Amanda Radovich, Lansing
Liz Baska, Tonganoxie
Rachel Bogard, Tonganoxie
Megan Blosser, Perry
Cassie Lombardino, Basehor
Carly Santaularia, Mill Valley
Rachel Darrow, Lansing
Jessica Todd, Immaculata
Kelsey Stanbrough, Bonner Springs
Stacy Grindstaft, Bishop Ward
Brooke Pryor, Santa Fe Trail
Honorable Mention:
Brooke Sanders, Basehor
Hilary Johnson, Bonner Springs
Michelle Selbe, Piper
Nichole Twitchel, Lansing
Hannah Hicks, Santa Fe Trail