Red Hots cap 8-2 season with trip to finals
Lansing Red Hots coach Christine O'Donnell knew her squad had a tough task on its hands in trying to defeat the Atchison Red Ravens Sunday in the championship game of the 2006 Leavenworth/Lansing Basketball Tournament at Lansing Activities Center.
Her squad was just a bit tired from a hard-fought victory against Leavenworth DiLeonardo during the semifinals earlier Sunday. Then there was the fact that nobody had beaten the Red Ravens all season.
The Red Hots didn't achieve their goal of winning the tournament - they lost 23-12 - but that didn't diminish the fact that the fifth- and sixth-grade girls had a good season that ended with an 8-2 record. Both losses were to the Red Ravens.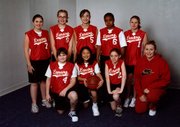 "They're a good bunch of girls," O'Donnell said of her team. "Half of my team is fifth-graders, and this is their first year ever playing basketball. Factoring in all of that, they did very well. Accomplishment-wise, they have done excellent."
O'Donnell said the strides her players made this season were noticeable in all areas, whether it was playing defense, passing or shooting.
"Some of these girls started the season with not even being able to get the ball half way to the goal on a free throw," she said. "By the end of the season they were making free throws."
Lansing had a tough time generating any offense during Sunday's championship game, but that was largely because of the tough defense played by Atchison. Fortunately for Lansing, its defense was equally stifling and neither team scored during the first quarter.
Everything changed during the second quarter, though. The Red Ravens found an offensive rhythm and raced to an 11-2 lead by halftime. The Red Hots' lone first-half basket was scored by Tawnee Hall.
Atchison used a 6-2 run in the third quarter to extend its lead to 17-4. Lansing's lone bucket that quarter was scored by Jala Jackson.
Trailing by 13 points entering the fourth quarter, the Red Hots were down but not out. They refused to go down without a fight. Jackson scored a pair of buckets, and Hall banked home a jumper to pull the Red Hots within 17-10 with 4:47 to go, but that's as close as they would get.
Although her players were disheartened by the season-ending loss, O'Donnell said she was proud of them for all they accomplished this season.
"They're all sullen and pouting because they lost the championship game," she said, "but it's second place out of 10 teams.
"I told them, 'That's nothing to be ashamed of, and your season record was awesome.' I told them they've got to hold their heads up and be proud of what they did. They're a great team."