Siblings battle for bragging rights
Nearly two dozen Lansing Lions and their siblings tested their brains and brawn in a battle to determine the strongest and smartest of the pride.
Sibling Rivalry, organized by sophomores Jasmine Holland and Erin Griffen and the Lansing High School Leadership group, took advantage of Saturday's balmy weather to pair siblings and good friends in a showdown of prowess and cunning in events ranging from a water balloon toss to a donut-eating contest to badminton and ending with a final trivia round.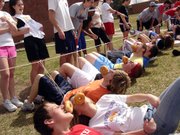 Tempers ran hot and disputes broke out as the watchful competitors tried to spot cheating and argued over the winners of several events, but spirits remained light. The event, while determining all-important bragging rights, was created as a charitable fundraiser.
"We charge $10 per team, and all the profits we make are going to go to - we're not sure what charity," Holland said. "We're thinking of donating it to a boy who goes to Warren (Middle School in Leavenworth) : who has to have chemo."
As to the source of the idea, Holland said it was all in the family.
"Me and Erin came up with the idea because we both have sisters who are seniors and we were just thinking of something we could do that would include them," Holland said. "We have a lot of brother and sister couples at Lansing, so why not make a competition between them?"
However, the event also was open to pairs of friends to compete together.
The team of Stefan Froelich and John Edmonds came out the winners of the event after defeating Chance and Ty Thackston in the game show round.