Small books come in expensive packages
The notion that good things - as well as expensive things - come in small packages was reinforced earlier this semester for Lansing Elementary School kindergarten teachers Andrea Rothmeyer and Vickie Kelly.
In November, the teachers received $820 in grants from Lansing Educational Foundation Fund to purchase guided reading materials for their students. The materials - 150 books - arrived about mid-January, Kelly said.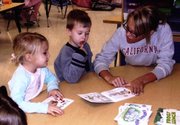 Rothmeyer said she was a little surprised when the books were delivered. More than $800 worth of reading materials fits in a tub, about one-foot square, on her shelf. Rothmeyer and Kelly bought six copies of each of 25 titles for their collection.
Despite the expense, Rothmeyer said that so far, she has been happy with the materials.
The six copies of each book are used in small groups, Rothmeyer said. Each student in the group gets a copy to read along with the teacher.
In her class, Kelly has all the students read aloud first, then they read to each other. Later, students work one-on-one with parent-volunteers and read to the volunteer.
Both teachers said they usually introduced one title per week.
"These books have been great," Kelly said. "The kids like it; it's been fun. They get very excited about reading."
Kelly said there were many reasons the books were good tools for her students. They are small, sized for a kindergartner's hands, and they use pictures to give the students clues about the new words they are learning. Plus, the subjects - like going to the zoo - appeal to the students.
"That's exciting to them," Kelly said.
At this point in the year, Kelly said, the teachers are trying to prepare the kindergarten students for first grade. By the time they leave kindergarten, Kelly said, teachers want their students to know about 100 "sight words," which are words that cannot easily be sounded out such as "the" and "saw" and that make up about half of all written material. Reading the books regularly exposes the students to sight words and teaches them "the beginning skills to be emergent readers," Kelly said.
The books also use short, simple sentences to help the students learn not just the words but also how to read.
Students learn to follow print from left to right and from top to bottom, Rothmeyer said. They also see what a sentence is supposed to look like, Kelly added, starting with a capital letter and putting spaces between words.
"It gets them used to the concept of print without giving too much print," Kelly said. "They understand a little bit more."
Rothmeyer and Kelly agreed that the grant gave them a good start for their library. Kelly said that in the past, she had made her own books. Both teachers said they would like to apply for another grant for more books, but Kelly said she was a little conflicted about applying.
"I want other people to have the opportunity, too," she said, "but it's nice to have."
Kelly said other teachers were welcome to borrow the books but so far, none have asked.