This is spring?
Lansing, area placed under winter weather warning
Spring officially arrived at 12:26 p.m. Monday, but you couldn't tell the change in seasons by looking outside.
Wet, cold weather has set in, and forecasters are placing Lansing and the area under a winter storm advisory beginning at 4 p.m. today and continuing through 6 a.m. Tuesday.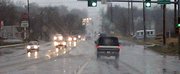 They say the area could receive up to 4 inches of snow by the time a storm system moves through the region. The total is down from an earlier forecast.
The National Weather Service at Pleasant Hill, Mo., reported only light precipitation occurring around the noon hour. But forecasters said the atmosphere was reloading for another round of precipitation late this afternoon. They said a mixture of rain, sleet and snow would start up again between 5 p.m. and 6 p.m., changing over to snow by 7 p.m. Before 7 p.m. only minor accumulations are expected, but snow will accumulate rather rapidly between 8 p.m. and midnight, forecasters said.
Accumulations from 1 to 3 inches are forecast across the southern portion of the metro area, with 2 to 4 inches expected farther north, including Lansing and Leavenworth.
East winds gusting to 40 mph will reduce visibility once the snow begins, forecasters said.
A winter storm warning means significant amounts of snow sleet or ice are expected or occurring. Strong winds also are possible. This will make travel hazardous.
As for that change in seasons, spring may be here but forecasters don't expect temperatures to reach much above 40 until this weekend.