Council asks developer for timeline
A Main Street property owner who is behind with his development project will have 60 days to formulate a "reasonable" timeline that meets the approval of the city.
Lansing City Council members voted 5-3 last week to give Danny Asher, owner of Dasher Garage, the time to come up with a new plan for his Old Town development in the 300 block of North Main Street.
In the discussion preceding the vote, council members struggled with how to balance the need to hold developers accountable to timelines for their projects while still being flexible enough to work with developers.
Council member Billy Blackwell said city had been flexible but Asher and his representatives had not come to the table in good faith to keep the city updated about the lack of progress on the development.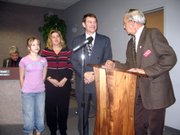 "We've got to get some timelines in place," Blackwell said. "We could very well set a precedence here with other developers where they do the same thing. : We just can't have that. We can't do business that way."
But Council President Kenneth Ketchum urged the council not to punish someone who already had sunk thousands of dollars into a project but has not completed the development as originally presented.
"I've talked with Danny Asher about this also. He's told me he does intend to build the rest of the buildings. But he said that with the highway, he just hadn't been able to get anyone to commit to come into the buildings.
"I think he will build. And I do think, as I've said, we need to work with him. I'm disappointed he has not been up here personally to talk with us. But by the same token, we have to understand small-business problems, and we've got to work with him. It's just that simple."
Preliminary plans for the development were approved in late 2004 with final development plans winning the council's approval in June 2005. Those plans called for a five-business development based on the look of old downtown Lansing. The original timeline called for completion of the project by October 2005.
Since then, Asher has completed work on his business, Dasher Garage, which he relocated from Leavenworth, but the rest of the lot remains vacant except for signs promoting the coming development.
Asher was represented at the meeting by his attorney, Gary Nelson, who told council members it was his fault for not keeping the council or city staff posted on the development's progress and for failing to answer inquiries from the city.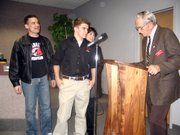 "It puts you guys in kind of a position where you feel you were left out of the loop, and you were," Nelson said.
He promised council members Asher was willing to work with the city.
"I'll take care of getting back with council members, staff, whoever," Nelson said.
Council member Andi Pawlowski told Nelson there was a perception in the community that Asher was content with building his garage and had no intention of ever completing Old Town.
Nelson dismissed the notion.
"The commitment to build is there. His preference was to already have it built and occupied," Nelson said, noting that the looming construction project on Main Street was making it difficult for Asher to land tenants.
Voting in favor of requiring Asher to present new plans within 60 days were Council members Pawlowski, Blackwell, David Trinkle Jr., Don Studnicka and Dee Hininger. Opposing the measure were Ketchum and Council members Harland Russell and Robert Ulin.
In other action Thursday, the council:
¢ Approved 7-0 minutes from the council's Feb. 23 special meeting and March 2 regular meeting. Council member Harland Russell abstained.
¢ Watched Mayor Kenneth Bernard present Kyle Buehler with a certificate of accomplishment and a city coin. Buehler, a Lansing High School wrestler, won the Class 5A state title in his weight class. "Having a son that wrestled, I know how much hard work he's done over the last few years to do this," Bernard said of Buehler.
¢ Watched Mayor Kenneth Bernard present LHS wrestling coach Ron Averill with a certificate of accomplishment and a city coin. Averill recently was named the Kansas Association of Wrestling Officials' 5A Coach of the Year. "We appreciate the effort you put out to help the children of this community and to aid the school system," Bernard told Averill.
¢ Heard a quarterly report from Leavenworth County Development Corp.
¢ Unanimously adopted a resolution to issue $5.365 million worth of general obligation bonds, to be used to fund the city's portion of the Main Street System Enhancement project and to refinance a portion of debt related to the 2001 West Mary Street improvements.
The new bonds carry interest rates ranging from 3.5 percent to 5 percent over their 20-year payback.
¢ Unanimously approved a resolution supporting the Kansas PRIDE Program. Bernard presented John Bennett, a Lansing PRIDE Committee representative, with the resolution.
¢ Unanimously approved a memorandum of understanding with the Kansas Department of Transportation related to the Kansas Highway 7 Corridor Study.
The memorandum includes a pledge from the city's to protect future right of way along the highway within the city limits.