'

Girly-girls' to test mettle in Kansas Air National Guard
The girls who arrived at the Lansing High School library last Thursday looked more like trendy cover girls than military enlistees.
The fashionable foursome would be in a photo shoot, but not for a magazine - their parents gathered to take pictures as the LHS seniors signed the documents and pledged an oath that officially made them part of the Kansas Air National Guard.
The seniors, now Airmen Kasey Denney, Jessie Mitchum, Nicole Holland and Angel Constantino, enlisted in the 190th Air Refueling Wing of the Air National Guard, based at Forbes Field in Topeka.
The girls seemed positive but a little overwhelmed during the ceremony, some of them wiping away tears. The reality of the decision was sinking in as they signed their contracts and life insurance forms.
Photo Gallery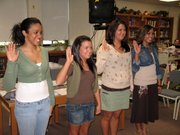 'Girly girls' sign up with Air National Guard
Lansing High School seniors Nicole Holland, Angel Constantino and Jessie Mitchum are self-proclaimed "girly girls," but they're dead serious about their after-graduation adventure. The four gathered March 16 at LHS to enlist in the Kansas Air National Guard.
"So this is if we die?" Constantino asked.
"You're in the military now," the facilitator told her.
All four girls cited tuition assistance as a factor in their choice to join the Air National Guard.
But their reasons went deeper than their pocketbooks. Mitchum said she wanted the Guard to help her "to not be so lazy."
There also was a consensus that they had something to prove.
"We're girly-girls," Mitchum said. "We're just trying to prove (ourselves) to people because no one thinks we can do this."
Constantino added, "No one else has the guts to do it."
All four will attend six weeks of basic training this summer at Lackland Air Force Base in San Antonio and then will start technical school, also at Lackland.
The girls don't have an easy road ahead of them. Their recruiter, Technical Sgt. Chad Bellquist, asked them before the ceremony if they had been running to prepare for basic training, which focuses on physical fitness as well as classroom teaching about the Air National Guard.
Bellquist presented each enlistee with a package that included a shirt, a planner and a gym bag. He told the girls to pack the bag for basic training.
"If you have more than fits in the bag, you have too much stuff," he said.
While they are training, the girls said they won't have access to TV, cell phones or makeup, and they are limited to five-minute showers.
"But we get to pluck our eyebrows," Constantino said.
Mitchum, Holland and Constantino plan to enter the traffic management school, which Bellquist said lasts about 13 weeks and deals with shipping and receiving, as well as coordinating travel arrangements through the passenger terminals of an Air Force base.
Denney will enter the services school, which lasts six weeks and includes training for hotel, restaurant, fitness club or funeral home management.
Denney said one reason she chose services was because it has the shortest training and she knew she would be homesick. But she hopes the military training will be an advantage when she majors in criminal justice, she said, and will "help me become an FBI agent."
Each of the girls plans to begin school in January; Holland said she would attend the University of Kansas in Lawrence, and the others plan to attend Washburn University in Topeka.
As members of the Air National Guard, the girls are required to work at Forbes Field one weekend per month plus two weeks per year. Each signed a six-year enlistment contract.