A little help from her friends
Kidney donation helps Lansing woman live 'perfect' life
With help from her college roommate's husband, Lansing resident Jill Riester has good reason to celebrate National Kidney Awareness Month this year.
Riester had suffered from polycystic kidney disease for more than 20 years, but three years ago, the disease worsened and her health spiraled downward.
With the realization that her kidneys were failing, she made the decision to undergo dialysis - a treatment designed to cleanse the blood of harmful waste products.
For three days a week, Riester spent four hours attached to a dialysis machine with little to do other than watch television.
Life on dialysis also leaves a person pretty much homebound; otherwise, one risks not being able to find treatment. Riester's family went as far as to schedule vacations in places with dialysis centers.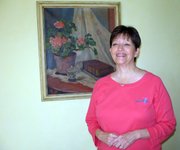 "The dialysis isn't painful," Riester said. "It was just so boring."
Riester's life would linger this way for two years while she remained on a list to receive a kidney transplant.
She first sought help from her sister as a potential donor, but after testing, it was discovered that Riester's sister also had PKD, though not quite as serious a case. Riester said it was uncommon for people to be tested for PKD until later in life because, once diagnosed, it is difficult to qualify for life insurance.
Finally, in September 2005, Riester learned she might be relieved of the enormous burden of having failing kidneys. Bruce Knapp - the husband of Riester's college roommate - had blood tests performed to see if he might be a possible match.
"I was frustrated," Knapp said. "I couldn't understand why she was (still) in need of a kidney."
The results came back positive, and Knapp scheduled a trip to Kansas City in November, when the transplant operation was performed at University of Kansas Medical Center.
So far the operation has proven successful. In fact, Riester says she's living a fairly normal life.
Riester volunteers for the Kansas City chapter of the PKD Foundation, an organization that helps to spread awareness about the disease and raise funding for PKD research to find a cure and improve the care and treatment of those affected. There are approximately 60 chapters nationwide.
March is National Kidney Awareness Month, and the PKD Foundation is spreading the word about healthy kidneys and kidney diseases.
PKD is a genetic disease that affects 600,000 Americans and 12.5 million people worldwide. The disease causes cysts to develop on one or both kidneys, forcing the organs to lose their ability to cleanse blood.
Riester said common symptoms include high blood pressure and pain in the kidneys due to enlargement. Victims of PKD also become tired and anemic, Riester said. Those with the disease have close to a 50 percent chance of experiencing kidney failure.
Before her kidneys failed, Riester had to be regimented in certain areas of her lifestyle, such as her diet. She had to eliminate diary products, salt, caffeine and any foods containing phosphorous. When her life was dependent on a limited diet, she said, she got used to it. But now, with functioning kidneys, Riester can treat herself to certain foods once considered off-limits.
"That part's really nice," she said.
While currently there is no cure for PKD, Riester insists that scientists and doctors are making great strides.
The Kansas City chapter of the PKD Foundation sponsors a walk each year to raise money for research. Last year, the foundation raised almost $30,000, 93 percent of which went to research.
"I'm really proud of that fact," Riester said.
Riester and Knapp are adamant about getting the word out not only about PKD but organ donations in general.
"I think as consciousness-raising occurs," Knapp said, "it has to do with the empathy of those most in need. There's love and compassion that leads to empathy."
The Kansas City chapter of the PKD Foundation has scheduled a golf tournament at The Deuce at The National Golf Course of Kansas City on May 2. It is also sponsoring a walk on Sept. 17. More information about PKD and local fundraising events can be found at pkdcure.org/kansascitychapter.
- Tom Slaughter is a University of Kansas journalism student and will be contributing articles this semester to The Current.