Robbins ready to fulfill dream
Ryan Robbins never let the dream go.
Even living half a world away in Seoul, Korea, he refused to let his dream of being a college football player fade away.
Now Robbins, a Lansing High senior defensive end and wide receiver, will get to make that dream a reality.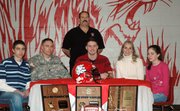 Robbins signed on Feb. 17 to play football at Dodge City Community College.
"It feels real good knowing that I'm talented enough to go to the next level because all of that hard work I did this summer and working hard through the season paid off," Robbins said.
Robbins said he'd wanted to play college football ever since he was little.
"When I was little I'd watch those games on Saturday, and I always told myself that I'd be there one day," he said. "It always stuck with me."
Robbins began working toward the dream when he attended Patton Middle School at Fort Leavenworth. His father was in the military, though, and eventually his family was transferred to Korea.
Somewhat surprisingly, Robbins discovered there were opportunities to play football on the military bases. He made the varsity team as a freshman and a sophomore.
"We even had an all-star game in Singapore, and I got selected for that," he said. "It just worked out."
Upon his return to the United States prior to his junior year, Robbins enrolled at Lansing High and rejoined some of his old middle school friends. He wasn't sure exactly where he'd fit in, but he knew he could play.
"I wasn't worried," he said. "(Moving) didn't keep me from doing anything I wanted to do. I just told them to put me anywhere the team needed me. I just wanted to be on the field so I could make an impact, or try to at least."
Robbins' impact was immediate. He earned the starting nod at defensive end, was fifth on the team with 65 tackles, first on the team in fumble recoveries (2) and second in sacks (6) during the 2004 season. As a reward for his effort, he earned All-Kaw Valley League honors.
Although he'd had a good junior campaign, Robbins knew there was more work to do. He hit the weight room hard all summer long - he didn't miss a day, he added about 15 pounds of muscle and entered his senior season as a 6-foot-4, 220-pound force to be reckoned with.
"It was a big deal," Robbins said of his work in the weight room. "If I hadn't done all of that hard work I wouldn't be where I'm at now. I'd be a lot smaller than I am now, so all of that hard work definitely pays off."
As a senior, Robbins helped lead Lansing to its best season in school history with a 9-2 record and KVL title. He was second on the team in tackles with 98 and led the team with 12 sacks despite facing very few passing offenses. He also doubled as a wide receiver and caught 22 balls for 396 yards and four touchdowns. At season's end he again was an All-KVL selection. He also received All-Metro and All-State honors as a defensive end.
Dodge City was most impressed with Robbins' ability on defense. DCCC coach Marcus Garstecki also is the Conquistadors' defensive coordinator, and Robbins said Garstecki told him he would be moved from defensive end to outside linebacker and have a starting spot waiting for him.
"He told me he was giving me the starting job at outside linebacker, and it was my responsibility to work hard and keep that position as a starter," Robbins said. "I'm going to bust my tail to keep that spot."
Garstecki told Robbins that if he worked hard and gained 15-20 pounds of muscle during the next two years, he would have a chance to move on to an NCAA Division I school.
"My goal is to be D-I," Robbins said. 'They said if I just work hard and give them all I have, then after I graduate I'd be 6-foot-4 and about 235 and a legit D-I prospect. He said that they would sign me D-I. That's my goal."