Slammers send 15 to state tournament
The Slammer Wrestling Club is prepared to take Topeka by storm.
That's the destination for 15 Slammers on Saturday and Sunday when they compete at the USA Wrestling Kansas Kids state tournament at the Kansas Expocentre.
Those 15 wrestlers - Elijah Hill, Skyler St. Peter, Jared Johnson, Geno DeGraw, Spencer Blew, Tyler Baughmen, Cory Andrews, Cullen Demarest, Tyler Strouhal, Nick Flynn, Phil Witt, Jordon Johnston, Taylor Teeters, David Wilk and Brett Johnston - earned their trip to state by placing in the top four in their respective weight classes Saturday at the District 1 Championships at Mid-America Nazarene University in Olathe.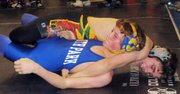 "This is a deep group across the board," Slammers coach Aaron Yoakam said. "Any one of those 15 guys going out there and wrestling their best, any one of them could place in the top six. They've just got to pull it together for one more tournament."
Five other Slammers qualified for the district tournament but did not advance to state. Wes Appleget (14-and-under, 130-pounds) and Rowdy Andrews (U12, 88 pounds) competed but did not place. Tyler Terron (U12, 110 pounds) missed the meet with an illness, and Mike Beachem (U14, 130 pounds) and Donnel Jones (U16, 115 pounds) did not compete because they had prior family obligations.
Hill (U8, 52 pounds) advanced to state by posting a 3-1 record and placing third in his weight class. Two of his wins were by pin, and his victory in the third-place match came by a 10-2 major decision. Hill placed fourth at state last year at 46 pounds.
"He placed in the past, and we expect him to place again," Yoakam said of Hill.
St. Peter (U10, 52 pounds) dropped his opening match, but he rebounded for two victories and a third-place finish. Jared Johnson (U10, 100 pounds) won his weight class with a solid all-around performance. His first-round match lasted barely 20 seconds before he won by pin. He then earned a tough 3-2 decision in the semifinals before winning the championship with an 18-3 victory. DeGraw (U10, 150 pounds) lost a double-overtime match in the semifinals, but he fought back to win two more matches, place third in his weight class and advance to state.
Despite facing a tough bracket, Blew (U12, 100 pounds) posted a 3-1 record on the day and a third-place finish. Cory Andrews (U12, 130 pounds) also went 3-1 and placed third to advance to state. The other U12 state qualifier was Baughman who placed first at 130 pounds. For Baughman, the title may have been a bit surprising considering he missed all but the last two weeks of the season because of an injury. Still, he cruised to a subdistrict title last week in his first action of the season and then posted a 3-0 record on Saturday and won his championship match by pin.
"Tyler's been plagued by injuries all year," Yoakam said. "First he broke his thumb. Then he came back and dislocated his shoulder. Then he comes back and two weeks later we're in subs. When he was hurt he never let it get him down and he never let his slow down his conditioning to keep him from where he wanted to be."
Two Slammers advanced to state in the 14-and-under division. At 115 pounds, Demarest cruised through his early matches before falling in the finals and placing second. At 205 pounds, Lansing High freshman Tyler Strouhal built off his strong high school campaign by winning three of his four matches and placing third.
The Slammers' deepest age group was at 16-and-under, where six wrestlers advanced to state. Flynn, a LHS sophomore, placed fourth at 135 pounds. Witt was third at 155 pounds. Jordon Johnston (155 pounds), Teeters (160 pounds), Wilk (175 pounds) and Brett Johnston (215 pounds) all posted 2-2 records and placed fourth.
Yoakam said he had high hopes for the Slammers at the state tournament.
"We're really excited for this weekend," he said. "I think I'm more nervous than most of them are. I'm just really looking forward to state and seeing these guys reach their goals."