Staying put: Longtime resident has seen many changes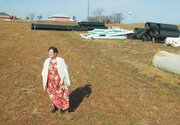 Anna Mary Landauer used to live on 155th Street.
Now she lives on Wolf Creek Parkway.
But she hasn't moved an inch.
The new name of the street on which Landauer has lived for decades, and the new Casey's next door, are signs of the growth that has enveloped Basehor in recent years.
In 2002, Landauer sold her Basehor farmstead. The contract stated that Landauer could stay in her home for as long as she lived.
Since then, the pink ranch house at the corner of U.S. Highway 24-40 and 155th Street has become an island amid a sea of development.
Gone are the acres of pasture, the barns, sheds and a pond. Gone are the hundreds of trees Landauer and her husband planted. Gone are the deer that used to sleep in the tall grass beneath a towering cottonwood tree.
But present is a new Casey's store, which opened last week. It's just west of Landauer's house, about where the old barn used to stand.
Landauer, a former Basehor mayor and city council member, bought the property with her husband, Joe Landauer, in 1943. They were newlyweds.
When the Landauers moved into the house, it already had been moved once -- to the fence line near the highway. Since then, it has been sold and moved again, to 186th and Metro, she said.
"The house that we moved into had originally sat in the middle of where the four-lane highway is now, facing the west," Landauer said. "We were told that in the 30s there was a 24-hour restaurant on that corner."
The house lacked running water, electricity and natural gas.
"We had to sign with KP&L for two years that we would pay a $5 electric bill whether we used any electricity or not and they brought it from Parallel on down. I cooked on a two-burner electric hotplate until we were able to buy an electric stove."
Road building
In 1943, the highway wasn't the straight shot from Kansas City, Kan., to Tonganoxie that it is today. The paved road from Kansas City, Kan., ran west on Parallel to 155th Street, then south to what is now 24-40, then west to what is now County Road 2, south to what is now Evans Road and then due west to Tonganoxie, Landauer said.
Landauer said it was in 1947 that 24-40 was straightened to head straight west of Basehor to Tonganoxie.
As the roads near her house increased in size, they carved away at the Landauer farm.
"It was originally 40 acres, less what was condemned for the public highway," Landauer said. "And when I finally sold it there were 31 acres left."
Now the entire piece of ground is zoned for commercial use, she added.
In the fall of 2004, developers Ed McIntosh and John Bell bought the 31 acres. Since then they've purchased 14 acres to the east of Landauer's former property.
"We have basically 40 acres," McIntosh said. "We own from 150th to 155th."
McIntosh said roads and sewers have been installed on about half the ground. And he and Bell, who sold the land for the Casey's store, are planning the rest of their development.
"We're hopefully going to get a grocery store anchor, then just various types of restaurants, retail and some office space," said McIntosh, who is a 1978 graduate of Basehor High School.
McIntosh said a recent traffic count showed about 24,000 cars passing by his property every day.
"We're talking to several (grocery stores)," McIntosh said. "We're serious about all of them, they're the decision makers."
According to McIntosh, sooner or later, Basehor, once again, will have a grocery store.
"It's really just a matter of timing, whether it's going to happen now or in 2010," McIntosh said. "It's just a matter of when."
Basehor's early businesses
Landauer, who graduated from Tonganoxie High School in 1935, recalled Basehor's earlier business district.
"We had two grocery stores and one was open 'till Sunday noon," Landauer said. "We had a post office in the old bank building, a lumber yard and a telephone office. We had the Meyer's Dairy and the Mussett's Dairy, they both ran bottled milk trucks into Kansas City every day."
Even then, the community was conveniently located, Landauer said. When they moved to Basehor, Landauer's husband worked in Olathe.
"We only had one car and I could catch a Greyhound bus and go either way -- on the half hour I could go to Tonganoxie and on the hour I could catch a bus and go to Kansas City."
At that time, she said she thought Basehor's population was about 340. In 2004, the population was estimated at 3,000.
As she looks at the incessant stream of traffic that passes by her house, Landauer is concerned.
"People are doing things so fast," Landauer said. "They're not even enjoying what's going on, they're not enjoying their lives, because everything is push, push, push."
McIntosh, too, said he has mixed feelings about the area's growth.
"Part of me likes the little old town of Basehor, even though I've developed stuff," said McIntosh, who has established two residential developments. "It's kind of a double-edged sword. I like the development, I like to see the growth, but I hate to see things change."