Students try their hands at band
A few students at a time waited in the Lansing Intermediate School auditorium, unsure of what was about to happen.
"Hopefully this isn't like the dentist where they stick things in your mouth," Valyssa Layton said.
Although Lansing High School band director Luke Johnson did tell at least one student to "say 'ahh,'" he wasn't checking teeth. Johnson and Lansing Middle School band director Becky Harris were testing LIS fifth-graders on Thursday and Friday, March 16 and 17, to see what instruments they might want or be able to play in the middle school band.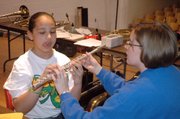 Harris, Johnson and, at times, a volunteer from Palen Music Center in Liberty, Mo., called students to the auditorium and asked what their top three choices would be if they could play an instrument. Then, they had students try to use different mouthpieces, instruments or drumsticks.
Harris explained that the methods help the teachers to recommend an instrument for the student to play if they are interested.
"We try to steer them in the direction that would be most successful for them," she said.
For example, Harris said, if a student can get a good sound out of a mouthpiece, the student is likely to succeed in playing that instrument. Conversely, students who can't keep a beat won't do well in percussion.
The teachers also look at a student's build and face structure, she said - small students can't play large instruments, and students with big lips might not be able to play certain instrument mouthpieces.
When it was her turn, Valyssa tried flute, clarinet and trombone.
"My lips hurt from the trombone," she said.
Valyssa said she was torn between flute and clarinet.
"I like the flute. It's really cool," she said. "I like the clarinet, too, because my sister plays it."
Watching her sister's high school band concerts helped to interest Valyssa in band, she said. After her testing, Harris recommended flute for Valyssa.
"I had some doubts about playing the flute," Valyssa said. "I didn't think I could blow it."
Testing was an opportunity to dispel other myths or fears students had. Amber Higley said she didn't want to play an instrument before last week.
"I didn't really think it looked fun," she said.
But after testing, she said she liked the saxophone and would consider being in band.
"I had fun playing that, and (Johnson) said it was my best one," Amber said.
That response is one Harris is glad to hear. The testing is partly a recruiting tool for the middle school band. This year, Harris said she has about 42 sixth-graders in band; next year, she hopes to have at least 50, if not 60 or 70 sixth-graders.
After they've been tested, Harris said, students should discuss their options and decision to be in the band with their parents. Though the teachers make recommendations for each student, the final choice of what instruments the students play is up to them, Harris said.