Third-grade program celebrates America's diversity
Lansing Elementary School third-graders paid homage to diversity last week at their music program.
The students performed "Americans All: A Musical Celebration of America's Multicultural Heritage" on Thursday, March 16, at the Lansing Elementary School gym.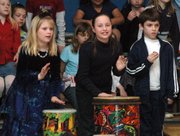 LES music teacher Ryan Rothmeyer said this was the first time Lansing Elementary School students had put on "Americans All." The program included 10 songs highlighting different cultures, which Rothmeyer said he hoped would "make these kids more aware of different parts of the world."
"Being a small town and not having an extremely diverse student body, we thought it would be important" to expose students to different languages and cultures, Rothmeyer said.
Students sang American Indian, South African, Irish, Korean and Caribbean songs and expanded their language base by singing in German and Hebrew, as well as English.
Rothmeyer said the students impressed him both with their abilities and their willingness to learn the new material.
"They've done a great job singing in the foreign languages," he said. "They've been very open to the languages and music of these cultures, and that's been really great to see."
Not only the music was different from what students had done in the past, Rothmeyer said - the program also included more instrumental parts. The students played xylophone, hand drums, woodblock, a cowbell and even a gong.