Broken arm doesn't dash Slater's football dreams
Jeff Slater got serious just in time.
After taking it easy during the summer his first few years of high school, Slater started hitting the weights hard, recovered from a broken arm and ultimately had the opportunity to play college football.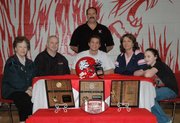 He signed on Feb. 17 to play football at Dodge City Community College.
"I'm ready for it," he said of the opportunity to play at the next level. "I'm ready for it because everybody around me is going to be a lot better than me. Hopefully I'll be able to elevate my game to a new level down there."
Slater was lucky to have the opportunity at all. A standout athlete at Lansing High for four years in football, basketball and track, Slater admitted that for a long time he got by on ability alone.
Wake up early and hit the weight room during the summer? Nah.
His mind changed after football ended his junior year. Lansing rolled into the regional playoffs on an eight-game winning streak, only to get pounded by Holton.
"My sophomore and junior year I never worked in the weight room, and Coach P. (Bill Pekarek) was always hassling me," Slater said. "The difference was we couldn't beat Tonganoxie. We couldn't beat Mill Valley. We saw what happened with Holton last year."
Holton's players were stronger. They hit harder. They were flat-out tougher.
Slater finally decided he needed to change. He was an All-State linebacker and All-Kaw Valley League linebacker and running back as a junior, but he realized he needed to do more.
"I finally bought into what Coach P. was saying," Slater said. "I made a couple bets that I'd make it (to weights) over 25 times."
Slater made it to weights 25 out of 27 days before having an unlucky accident. In late July while playing in an AAU basketball game, he was undercut by an opposing player and knocked to the floor. He broke his humerus - the bone that runs between the shoulder and elbow.
Suddenly it appeared his hard work would be all for nothing.
Slater was told he would miss his entire senior season. Before the injury he'd been hearing from NCAA Division II colleges, but afterward the phone stopped ringing.
"I did want to play at a higher level of football next year," Slater admitted, "but with the arm, the D-II schools stopped calling and sending stuff."
Slater didn't want the dream to die. He chugged apple juice to load up on calcium. He worked hard to rehabilitate the arm and returned to the field on Homecoming. As a running back, wide receiver and linebacker, he helped the Lions win the Kaw Valley League title.
Suddenly, colleges started paying attention to him again. Dodge City called and offered him a position as a wide receiver. It was an opportunity Slater couldn't refuse.
"The games obviously helped from what the coaches at Dodge said," Slater said of his return to the field.
Slater said he would benefit from focusing solely on playing wide receiver. He said that would allow his arm to continue to heal and strengthen. He said it also would give him the best opportunity to sign with a four-year school later.
"I should get more exposure at the junior college, and with the way my arm's healing, it's a slow process but it should be healed up and everything should be going well" when he gets to school, he said. "But mainly I'm just glad that everything worked out. This is what I wanted to do. This is what I dedicated my summer towards so I could play college football."