Ready or not, here come the state champs
LHS

to have its hands full with No. 2-ranked Blue Valley West
Fresh off a hard-fought 3-2 road victory in its season-opener Tuesday at Mill Valley, the Lansing High girls soccer team is about to face one of the top teams in Kansas.
LHS (1-0) will take on defending state champion and current Class 5A No. 2-ranked Blue Valley West at 6:30 tonight at the BVW sports complex.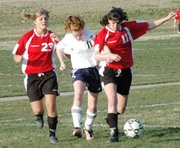 "Bring it on," LHS sophomore forward Christine Cordes said with a laugh.
That's the mindset the Lions will have to take into the game because, realistically, it's a contest where they have very little to lose and plenty to gain. Coach Rob Elkins scheduled the game because he wanted his players to play top-notch competition to better prepare the Lions for the postseason.
Junior midfielder Kayla Pina said the Lions welcome the challenge of playing the Jaguars early in the season.
"By playing teams that are supposed to be better than us, we will learn more from it, and then we'll be able to beat the teams in our league and become even better," she said.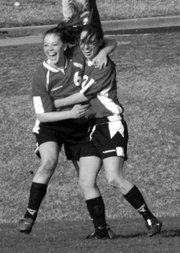 Improvement is what it's all about, Elkins said, and he said he already knew of one area his team needed to focus on improving. Specifically, the defense must get better. Against Mill Valley, Lansing had a handful of serious defensive breakdowns during the second half. Elkins said those mistakes were correctable.
"Two of them only have worked together before," Elkins said of his four defenders. "Today they got to work together, so Thursday you'll see an improved defense. I'm looking for that to be enough to turn the tide on Blue Valley West and hold our own against them."
West is a formidable foe, but the Jaguars aren't exactly the same juggernaut they were last year. They are trying to replace a handful of seniors off of last year's squad, so they're working out some kinks, too.
Still, West was good enough to rout Platte County in its season-opener on Monday, 11-2. Senior forward Lindsey Hoerl and junior forward Rachel Morris scored three goals apiece in the victory.
The way the Lansing defense responds will be a key factor in the outcome of the game against West, but the Lions know it will take a full-team, full-field effort to earn a victory. That means staying focused for 80 minutes, Cordes said.
"We can't lose our intensity," she said. "At moments out there (against Mill Valley) we were kind of like, 'OK, we've got two goals. Let's settle down.' And they'd come right back with it. We've just got to pick our heads up and keep going even if we're hurting."