Ryan a building block for
HCC
When Highland Community College made a commitment to upgrading its football program this winter, it took a variety of steps.
First, it continued its commitment to upgrading facilities. Then it hired new head coach Keith Majors in December. After that, the new coaching staff started cleaning house. Any problem players were asked to leave. The new players being brought in were recruited based on talent, character and work ethic.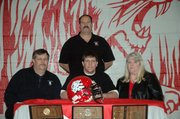 One of those new players was Lansing High senior Logan Ryan.
Ryan said he was impressed by the changes Highland was making in its program, and he said he was excited to be a part of it.
"It sounds like they've really got a goal in mind," he said. "They've got a whole new coaching staff. They've made a lot of changes. They said they got rid of nine kids right when they got there."
Ryan said he didn't dream of being a college football player until he got to high school. Then, when Lansing turned into a strong program, some of his teammates started talking about playing in college. That kindled Ryan's interest, too.
"I really started to like it in high school and got a lot more competitive," he said of his love of football. "That's when I decided I really liked it and wanted to go further."
Ryan played as big of a role as anybody in Lansing's dominant two-year run the past two seasons when it posted a combined 17-5 record. He was the only two-way lineman on the team as an offensive and defensive tackle. As a junior he was sixth on the team in total tackles with 63. He was fifth as a senior with 64 tackles.
At Highland, Ryan likely will leave the two-way playing behind and focus solely on his duties as an offensive lineman.
"They want me for offensive line," Ryan said. "They said it'd be great if I could get up to 250 pounds by the summer."
That shouldn't be too hard. A sixth-place medalist at the Class 5A state wrestling tournament in the 215-pound weight class, Ryan weighed 240 before the season.
He said he would put on most of the weight through hard work in the weight room. That is something Ryan is familiar with. He added about 25 pounds of muscle before his senior season of football when he didn't miss a single day of summer weights.
"That really helped me fire off the ball, hit harder and take it to 'em," he said.
Ryan plans to study nursing at Highland. He said he hopes to become an anesthesiologist.