Scouting dangerous territory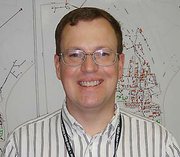 It was 1989. Traveling on busy trains through the Soviet Union and into China, Karl Gibson was the only American face, but he was not alone: foreign agents were tracking his every step.
"I was followed throughout the Soviet Union as well as China," Gibson said. "I was a former military person who dealt with NBC (nuclear, biological and chemical) things, and so they couldn't quite trust, 'Is this guy a spy or not?'"
Gibson was not spying, in fact, but satisfying his burning desire to "see if the world was round."
Despite tumultuous times in Asia, Gibson ventured forth into unknown country.
"(I took) the Trans-Siberian (Railroad) through Mongolia to Beijing, and I was there in Beijing in September and October in China after Tiananmen Square happened in June," Gibson said. "Martial law was fully in effect.
"It was great as a tourist because there was no one there."
Lately, Gibson's journeys are smaller in magnitude, but he continues to visit the places he loves. He travels each December to Vail, Colo., to ski with his father and uncle, and has traveled twice to Israel with his wife. Some of his favorite time, however, is spent preparing the next generation of wanderers for their travels.
He is a leader for two Lansing Scout groups, where he relives the excitement he felt when he was in the program as a boy. Now his satisfaction comes vicariously.
Gibson said he loved "watching the boys grow and learn. And having fun and having a structured environment that they can learn and become better men.
Name: Karl Gibson
Address: 14151 Nottingham Drive
Occupation: Industrial hygienist
Graduate of: University of Kansas
Family: Wife, Denise; sons Paul, 10, and Seth, 5
How long have you lived in Lansing and what brought you here? Since May 1990; job at Fort Leavenworth.
What do you like most about Lansing? Small town feel, friendly people, but close to Kansas City.
What do you do for fun? Church, travel, ski, genealogy
What would surprise people about you? I have been to every race at the Kansas Speedway.
What's the best advice you ever received? Remember who you are.
What organizations or clubs do you belong to? Antioch Family Worship Center; Lansing Boy Scout Troop 165, assistant Scout Master; Lansing Cub Scout Pack 3165, Cubmaster and Webelos Den Leader; Turner Lions Club