Slammers strong at state
Local wrestling club nets five medals, one champ at state tournament
A simple glance at Jared Johnson's wrestling accomplishments would have most people convinced he was a high school senior about to embark on a college career.
Few would believe he's just 10 years old.
Johnson, an Easton native and member of the Slammer Wrestling Club in Lansing, went 0-2 at the USA Wrestling Kansas Kids State Tournament last year, but since then he's been on a tear.
Johnson placed second at Liberty Nationals and won both sub-district and district championships this season. On Sunday he added the title of folkstyle state champion to his growing resume when he edged Smoky Valley's Trevor Whitaker, 3-2, in the 100-pound finals in the 10-and-under weight class.
"He's had a great year so far, so this finished it off for him really, really well," Slammers coach Aaron Yoakam said.
Photo Gallery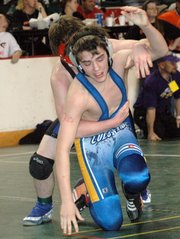 2006 USA Wrestling Kansas Kids State Tournament
The Slammer Wrestling Club competed March 25-26 at the USA Wrestling Kansas Kids State Tournament at the Kansas Expocentre in Topeka.
Johnson's victory made him just the fourth state champion in Slammers history. He wasn't the only Slammer to medal. In the 12-and-under weight class, Tyler Baughman placed second at 130 pounds and Spencer Blew finished third at 100 pounds. Elijah Hill placed fifth at 52 pounds in the 8-and-under class, and Lansing High sophomore Nick Flynn placed fifth at 135 pounds in the 16-and-under class.
Although five Slammers medaled, it was Johnson who stole the spotlight with his dramatic victory in the finals. Johnson recorded an escape and a takedown in the second period before Whitaker answered with a reversal to pull within 3-2. Yoakam instructed Johnson to choose the top position to being the third period, and Johnson successfully fended off a last-ditch effort by Whitaker to escape and tie the match.
Yoakam said Johnson's toughness shined throughout the tournament, and especially in the championship match. Yoakam said that was a result of Johnson's desire to improve and not be two-and-done at state again this year.
"(He put in) lots and lots of hard work, and I think he finally gained a little bit of confidence in himself that he could achieve it," Yoakam said of Johnson. "Four nights a week, two-and-a-half hours a night of practice. He was there every night. I don't think he missed a practice all year."
Other Slammers matched Johnson's commitment, but none were quite able to match his level of success.
Baughman's trip to the finals didn't end the way he'd hoped it would as he was pinned in the second period, but Yoakam said the fact that Baughman even was able to wrestle was a victory in itself. He suffered two major injuries - a broken thumb and a dislocated shoulder - during the season, but he came back and made it all the way to the state finals before losing.
"It was amazing that he was able to compete the way he did because of the injuries," Yoakam said.
Blew was equally stellar throughout the tournament. He posted a 4-1 record and recorded a 6-1 victory in his third-place match. Hill posted a 4-2 record for the tournament and medaled for the fourth straight year. Flynn went 3-2 for the tournament and won his fifth-place match in overtime to earn some redemption after an injury forced him to come home empty-handed last year.
The Slammers will take a week off and then begin the freestyle season April 4.
NOTES
¢ Bo Pursel, who trains both with the Slammers and the Mat Side Wrestling Club, competed for Mat Side at state and placed first in his weight class.
¢ William Gering, a Lansing Elementary School third-grader, made a trip to the medal stand on Sunday. A member of the Bonner Springs Wrestling Club, Gering placed fifth at state in the 55-pound weight class of the 8-and-under division. It was his third time placing at state.