Teacher, class celebrate kidnapped journalist's release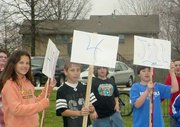 Students in Barb Alonzi's fifth-grade class celebrated by holding makeshift placards outside Lansing Intermediate School that read, "Honk" "4" "Jill."
Alonzi's celebrated, too. But for her, the release of kidnapped journalist Jill Carroll was much more personal.
Alonzi is the aunt of Carroll, whose whereabouts had been unknown since Jan. 7 when she was kidnapped while on her way to an interview in Baghdad for The Christian Science Monitor.
For more on Carroll's release and Alonzi's reaction, see the April 6 edition of The Current.