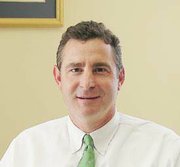 Rick Schneider, vice president of First National Bank of Leavenworth, has been in the banking business longer than ATM machines.
And though adaptation has been a key to his success, some things in business don't change. Long before his days as a banker, Rick Schneider learned that quick thinking and honesty were crucial elements in business.
Previously employed by a cable franchise, Schneider sold cable door-to-door in small towns not unlike Lansing, where the major cable companies had yet to market. Since many smaller areas still used antenna broadcasting, cable television was a hot product at the time.
Schneider sold it to many different types of people.
"Everybody wanted to sign up," Schneider said. "You literally run across a wide spectrum of human nature."
The cable business occasionally landed Schneider in unusual places.
He recalled selling cable to much of the town of Lynchburg, Tenn., the site of the 140-year-old Jack Daniels distillery, the oldest still in the country and possibly the most famous.
"It's a little town just like Lansing," Schneider said of Lynchburg. "There's a lot of history there."
Though cable was a big seller, Schneider found the whimsy of door-to-door sales a useful proving ground for his future plans.
"I was actually in training to become an Edward Jones agent," Schneider said. "The primary idea was to teach you how to overcome rejection : and to kind of think on your feet."
Dynamic thinking helped Schneider outside of the office in recent years. Coaching his youngest son's football team was both a challenge and reward. The satisfaction he sees in the players' success makes it all worthwhile, he said.
"You get to learn a lot about kids," Schneider said. "It really keeps you young."
Name: Rick Schneider
Address: 625 S. Bittersweet Lane
Occupation: Senior vice president, First National Bank
Graduate of: Kansas State University
Family: Lori, Calvin, Joe
How long have you lived in Lansing and what brought you here? Four years
What do you like most about Lansing? The midpoint access to K.C. and Leavenworth
What would surprise people about you? There are actually a few rap songs that I like.
What's the best advice you ever received? Things are not always as they appear.
What organizations or clubs do you belong to? Lansing Educational Foundation Fund