Clerk to leave after 14 years
Lansing's city clerk is leaving her longtime post for a similar job with the city of Leavenworth.
Karen Logan, who has been Lansing's city clerk for more than 14 years, will become Leavenworth's city clerk at the end of the month. Her last day with the city of Lansing will be May 19, City Administrator Mike Smith said.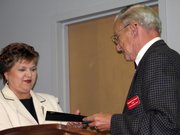 "I really hate to see her go," Smith said Wednesday, a day after Logan accepted the Leavenworth post.
"I've really enjoyed working with the city of Lansing," Logan said. "I've had a lot of learning experiences and personal growth opportunities here. I really am going to miss it."
In her capacity as Lansing city clerk, Logan has overseen areas that include traditional clerk duties - dealing with city ordinances, resolutions, codes, council meeting minutes, licenses, etc. - plus she has additional responsibilities dealing with human resources, city finances, overseeing Lansing Community Library and being in charge of the administrative staff when Smith is out of the office.
At Leavenworth, Logan said, she'll continue the normal clerk duties in an office of seven employees, but no longer will have human resource or finance dealings outside of her own department. Nor will she oversee the Leavenworth Public Library.
And, she'll receive a boost in pay.
Smith said Logan would be paid about $70,000 annually in Leavenworth - $12,000 more than her current salary. Gary Ortiz, Leavenworth's city manager could not be reached to confirm the figure.
"I can't compete with that," Smith said. "I wish I could, but I just can't."
Smith said the search for a new clerk in Lansing would begin in earnest this week.