Debate leads senior to pursue law career
Among his numerous extracurricular activities, Lansing High School senior Chris Rohan is the manager of the girls soccer team, and in the winter, he managed the girls basketball team.
"I don't know how I got sucked into doing those," he said. "I'm not a humongous sports fan."
In the end, Rohan said he accepted the jobs because he wanted to support his friends. Girls sports don't get as much recognition as they deserve, he said. Being at every game shows the players that people do care about their accomplishments and gets them enthused, he said.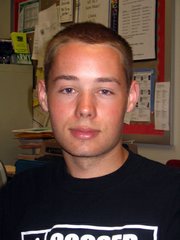 In addition to managing, Rohan is also Science Club president; a Cabinet member of Kays; and a member of the yearbook staff, video production class and National Honor Society. On top of all that, he was Homecoming King last fall.
But the school activity he loves best is debate. Back in eighth grade, he had decided to take the "easy route" and use speech class to fulfill a graduation requirement. But debate coach Tracey Matthews convinced Rohan to try debating.
"It seemed like something I could really get into," Rohan said. "It really appealed to me."
He's been on the debate team for three years and went to the state competition in the fall.
Debate has strongly shaped his life, Rohan said. He's now planning to attend law school. His choice for now is the University of Kansas. Of course, he'd really like to go to Harvard or Yale, but those plans are on the backburner until he gets the money it would take to attend school there, Rohan said.
Rohan's immediate plans are to attend Kansas City Kansas Community College for two years and join the debate team there. With any luck, he may earn more scholarships that way, he said. Afterward, he plans to attend KU, where he said he hoped to make contacts within the law school.
Corporate law doesn't appeal to him, Rohan said - he wants to be a prosecutor or defense attorney.
"I have a big heart for people, so (I'll choose) probably defense," he said.
Chris Rohan
Parents: John and Jacqueline Rohan
Favorite teacher ever: Dan Wessel, video production, Lansing High School. He's very laid-back and lets you do the work.
Best advice received: To each his own.
What he'll miss most about high school: Friends, and being around familiar faces.