Emeril's career path suits this senior
Jenna Fausett wouldn't mind being compared one of the most famous chefs of the modern world who owns several restaurants and stars in his own cooking show on Food Network.
"That would be really cool if I could be the female Emeril Lagasse," she said. "That would be an accomplishment."
Fausett already has the acting background as co-captain of the Lansing High School forensics team. And, in less than two years, she'll have completed her training at the California Culinary Academy in San Francisco.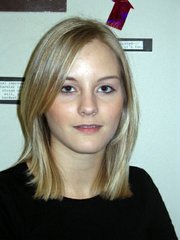 After the LHS senior graduates later this month, she'll start packing her bags to head out to the West Coast. Fausett said she "absolutely fell in love" with California when she visited it on a trip with the swing choir. As soon as she decided to pursue cooking as a career, that's the first place she looked, she said.
Fausett, who admitted that the Food Network is her favorite to watch, said when it came down to deciding where she wanted to go, "nothing appealed more" than culinary school.
"I've always liked to be in the kitchen," she said.
Though her family doesn't often sit down for meals together, Fausett said she enjoyed having cooking parties for her friends. At a recent get-together, she made enchiladas, linguine with pesto and a shrimp wonton appetizer. She didn't limit herself to one type of food, Fausett said, because "my friends are picky, and they won't eat everything."
Fausett will enter a "pretty intensive" 15-month program at the culinary academy, where she will learn all about running a kitchen and some business skills. Her long-term goal is to have her own restaurant, she said.
To achieve that, Fausett said she would try to start out in a four-star restaurant, possibly in a hotel. She would begin as an apprentice to an experienced chef to learn all she could. Then, when she has sufficient experience and has decided what type of food she most enjoys preparing, she could then open a restaurant.
Once she heads out to California, Fausett said it would not be likely she would come back to Kansas. She thinks the atmosphere and the amount of people who live in and visit California would help her restaurant get off the ground, she said. The weather might keep her there, too.
"I hate being cold," she said.
Jenna Fausett
Parents: Rod and Sondra Fausett
Favorite teacher ever: Kathy Bach, English, Lansing High School
Best advice received: From my mom, "If this is what you really want, then you need to go and get it."
What she'll miss most about high school: I will miss my friends a lot because I am moving so far away.