Ever since he first stepped onto a wrestling mat at age 7, Sean Flynn has dreamed of being a college wrestler.
That dream is about to become reality for the Lansing High senior. Flynn signed his letter of intent April 18 to be an NCAA Division I wrestler at South Dakota State University.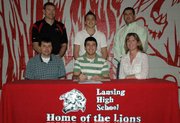 "It's pretty exciting knowing that I kind of have a contract and I'm going there," Flynn said. "There's really no turning back now, and it's not all talk anymore. I really am going there."
SDSU has been competing at the Division II level for the past few years, but it officially will become Division I next season. That means it's possible Flynn could find himself on the mat at the NCAA national championships a year from now if his season goes well enough.
"You'd watch the college NCAA's on TV and see all these good matches. I've always wanted to be in one of those type of matches that everybody watches," he said.
Whether Flynn reaches the national stage remains to be seen. For now, he said he simply would try his best. He knows it won't be easy.
"I talked to (Missouri wrestler and LHS grad) Vince Demarest about his first year of college wrestling, and he said the first six months is the worst six months of your whole life," Flynn said. "It's like you're a practice dummy all over. You sometimes won't be able to get a takedown on anybody. You get a lot of failures, but sooner or later it'll be success."
LHS coach Ron Averill said he expected Flynn to handle the transition to college wrestling well. He said mental toughness was one of Flynn's strengths.
"His greatest thing is his mental attitude," Averill said. "He's always had the tools and all the things to work with. It's just been the attitude that he needed to work on the most, to the point where he could really focus and step up and be ready to compete. We've really seen him turn a corner the last couple years, and especially this last year."
A four-time state qualifier, Flynn placed sixth at the Kansas Class 5A state meet as a 135-pound junior. He then was the state runner-up this year at 140 pounds. Flynn said he will wrestle at 149 pounds next year at SDSU.
As tough as college wrestling may be, Flynn's greatest challenge may be time management. In addition to taking a full load of courses and attending wrestling practices and tournaments, Flynn also will be on an ROTC scholarship. The decision to go the military route resulted from the inspiration of his father, Mike Flynn, a career officer in the Army.
"He's been the biggest role model," Flynn said of his father. "I've had different coaches down the line, but he's the one that takes me aside and tells me what to do. He helped me with the ROTC thing and getting me into college. If I didn't have him, I don't know if I'd even be going to college."
Mike Flynn said the combination of things on his son's plate would help him be successful in college.
"He's got three very demanding things (school, ROTC, wrestling) going on, so his job is going to be trying to balance his time to try to do all of those things," Mike Flynn said. "I think the focus of Army ROTC really is to teach leadership. They're trying to train you to be an Army officer, so a lot of their training is going to be on leadership, time management, discipline and those type of things. I think that's going to help him."
Mike Flynn said his son had matured a lot in the past year and would be ready for all of those challenges.
"I'm very proud of him because he's made this for himself, and he's surpassed all the things that I've ever done," Mike Flynn said. "I think every parent wants their kid to do just a little better, and he's done that. I'm a very proud dad."