Kansas City, Kan. — With the Class 5A regional baseball tournament right around the corner, the Lansing High baseball team is entering crunch time.
Specifically, the Lions must find a way to string two quality games together and obtain positive results if they hope to earn a berth in the state tournament.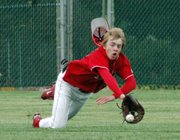 LHS struggled in recent outings as it was swept by Santa Fe Trail and Bishop Ward. Lansing wasn't particularly sharp when it rallied to take a pair of games from Tonganoxie on Monday.
The Lions' latest test came Friday when it split a doubleheader with the Piper Pirates. The Lions dropped game one 3-1 before holding on for an 8-7 victory in the nightcap.
In game one, Piper did all of its damage in the first inning. That's when it rattled off three hits. That alone didn't hurt much. What hurt was the two Lansing errors that accompanied those hits and led to three runs scoring.
LHS pitcher Chris Wagner was solid the rest of the game as he held Piper to just one hit the remainder of the game. He finished with a four-hitter and nine strikeouts.
Wagner's dominating effort proved to be too little too late. The errors allowed the runs to score, and Lansing didn't have an answer at the plate. The Lions mustered just three hits - all in separate innings.
"You shouldn't win a game when you're scoring one run," said Wagner, who drove in Lansing's only run.
The Lions' lone run came in the sixth inning. Mike Neilson earned a leadoff walk. He was forced out when Mike Bayless reached base on a fielder's choice. Bayless then scored on Wagner's base hit up the middle to break up the shutout.
The Lions' lack of hitting only lasted one game. They tapped Pirates pitcher James Asherman for 10 hits in game two and scored in each of the first four innings. Cody Mohan ripped a one-out single in the top of the first and later scored when Jeff Terrill reached base on a fielder's choice.
Piper struck back with three runs in the bottom of the first, but Lansing quickly tied the game in the second. Tylor McNeill singled. Matt McMillin doubled and allowed McNeill to score. Neilson came on to pinch run for McMillin, and Neilson scored on Bayless' singled to left field. That tied the game 3-3.
Lansing took command of the game in the third inning as four Lions crossed the plate. Terrill dropped in a one-out single to right-center field. He advanced to third on Kyle Miller's double. Terrill scored when Jordan Pratt reached base on an error. Johnny Stratton then reached base when his fly ball to right field was dropped. That allowed Miller to score from third. Kyle Hutchison (pinch-running for Pratt) and Stratton both came around to score when McNeill drilled a base hit to center field.
The lead grew to 8-3 in the fourth inning when Terrill reached base on a fielder's choice and then scored on Miller's single up the middle.
Piper pulled within 8-4 in the bottom of the fourth as Tyler Korona earned a leadoff walk and eventually came around to score. McMillin was on the mound for Lansing in game two, though, and he worked out of a fifth-inning jam and then retired the Pirates in order in the sixth to hold the lead. He allowed a walk, a single and a three-run homer to start the seventh. Mohan came on in relief and retired the next three batters to preserve the victory.
Lansing's bats were greatly improved in game two. The Lions pounded 10 hits in the nightcap. Wagner, Miller and McNeill had two hits apiece in the game.
By winning game two, Lansing upped its record to 11-7 with two games remaining. Those games will begin at 4 p.m. Monday when LHS plays host to a doubleheader with Basehor-Linwood. It will be Senior Night for Lansing seniors Wagner, Mohan, Pratt, Terrill, Bayless, Chris Clemmons and Mike Amaral.
Wagner, a four-year varsity player, said he was unsure what to expect on Senior Night.
"I haven't really put much thought into it," he said. "Basketball was a little different because I know that was probably the last game I'll ever play. With baseball, I'll have the summer and then hopefully four more years - two more at least."
Wagner will play college baseball next year at Iowa Western Community College. Terrill, Amaral will play college ball at Highland Community College. Mohan still is weighing his options but will play baseball in college.
What Wagner said he did know was that Basehor would present a good challenge on Monday if LHS isn't focused.
LHS coach Troy Andrews agreed.
"They've won some close games and got beat close," Andrews said of the Bobcats. "They play Turner (on Saturday) at Community America. If I'm not doing anything, I might be out there."
Andrews said the doubleheader with Basehor would be key for another reason: it's the final tune-up for the postseason. He said his club needed to put two solid games together to enter regional play on a positive note.
"We need to start gearing toward the postseason by getting a little bit of enthusiasm, having good at-bats, scoring every inning, staying in the game, up on the bench, knowing what's going on, all those things," Andrews said. "Hopefully we can carry that over on Monday as long as the weather holds off."