Leavenworth team smokes
BBQ

field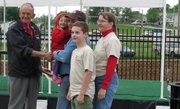 A Leavenworth team smoked the competition at Lansing's second annual Brew, Blues & Bar-B-Que Cook-Off.
Jumpin' Joe's Bar-B-Q was named grand champion of the cookoff, which took place Friday and Saturday in Lansing's Towne Center. Thirty teams from across the area competed in the event, which was sanctioned by the Kansas City Barbecue Society.
Joe Denny, team leader of Jumpin' Joe's, said it was his first overall title in seven years of competing.
In addition to the grand champion title, which entitles Jumpin' Joe's to compete at this year's American Royal International Invitational in October, the team placed in all four of the competition's categories: chicken, ribs, pork and beef brisket.
Jumpin' Joe's won first place in the pork category. The team also finished fourth in brisket; fifth in ribs; and sixth in chicken.
Other category winners were Wonderful Walt's Magical Barbecue, first place in chicken; Ribs and Racks, first place in ribs; and Lazy Ass Barbecue, first place in brisket.
For more on the contest, see Thursday's edition of The Current.