LHS

tennis sixth at De Soto
De Soto — Rarely this season have there been glimpses of weaknesses in the doubles game of Lansing High tennis players Matt Warner and Josh Robinson, but Saturday was one of those instances.
Competing in the semifinals of the De Soto Invitational, Warner and Robinson were in control against Ottawa's Matt Leery and Teran Cole. The LHS duo had a 5-3 advantage and were playing with the same confidence that allowed them to stomp their first two opponents of the day.
Suddenly, Leery and Cole found their serve. They'd been struggling to hit a successful first serve all match, but in an instant they were on fire. They closed out the match by winning the last five games and upended the No. 1-seeded pair from Lansing.
Photo Gallery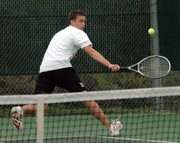 LHS tennis sixth at De Soto Invitational
Warner and Robinson's frustrations were visible in their third-place match. They had communication breakdowns and misfired on numerous shots. The result was an 8-4 loss to Josh Beaulein and Dustin Schiller of Baldwin.
"We're on and off," Robinson said. "It just depends on the day."
This wasn't the first time the two lost their focus during a match this season.
"It's been like that throughout the year," Robinson said. "We know each other, but it'd be different if we've been playing together for two or three years instead of one."
Robinson said he and Warner needed to work on their mental game before the Class 5A regional tournament on May 15 at Mill Valley. He said that would be critical if he and Warner hope to advance to state.
"You've got to be on top of your game. You can't make any mistakes," Robinson said. "And mentally you've got to stay strong."
Mental toughness was a strength for Lansing's No. 2 doubles team of freshman Ezra Carpenter and junior Felipe Blotta. Although they went just 1-2 on the day - they lost to Beaulein and Schiller in the first round and later lost to Topeka Hayden's Thomas Kent and J.T. Peterson - they hit solid strokes. LHS coach Rachel Elkins said Carpenter and Blotta made great strides in their all-around development in recent weeks.
"I think Ezra is doing a lot more shot selection, and that's making a difference across the board," Elkins said. "Felipe had a couple unforced errors, but he's got the power to place the ball, and once he starts doing that I think the team excels."
Elkins said she also was pleased with the performance of her singles players.
Senior Cory Collins, playing at No. 1 singles, went 1-2 on the day, but he took the tournament's No. 2-seed, Danny Sheehy of Topeka Hayden, to the wire before falling 8-6. It was Collins' strongest performance since returning from a mid-season injury.
"For him, I consider it a successful season already," Elkins said. "Having a gap in play, having an injury and still having a great attitude. He didn't mope after matches. He just thinks through it and says 'What do I need to do better?' He's still correcting certain things, and that's when to shift gears between power and finesse. When he gets that balance, he's tough.
"I hope he's peaked for regionals," she added. "He's on the cusp of that. He's right there."
At No. 2 singles, Meyer also appears to be peaking at the right time. He went 0-2, but he lost two close matches to the No. 3- and No. 6-seed players. He won a total of 12 games against his toughest opponents of the year.
"I still think he just is on the road to progressing to that player that pretty soon is going to shut the door," Elkins said. "When that is, I don't know. I thought it might be these last two tournaments, but I still check myself as a coach and say 'He's a sophomore. He saw one tournament last year. It's a different exposure.' Once he looks in the mirror and says 'I'm competitive," he'll cross the line. I can't predict when that's going to be, but I assume sooner than later because of his skills."