Diamond Queens: Lions earn first
KVL

title
Basehor — The Lansing High softball team made history Wednesday by winning its first Kaw Valley League championship.
LHS earned a share of the league title with Tonganoxie by knocking off Basehor-Linwood 2-1 in eight innings at Field of Dreams.
The victory didn't come easy. The Lions struggled to hit early in the game. Then they went to extra innings before senior Kasey Denney delivered - first at the plate, then with her glove - to secure the title.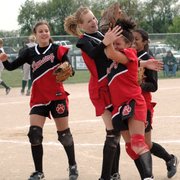 "It means a lot because we're the first to do it," Denney said of winning the title. "I was on the team that (in 2004) was the first to go to state. It's an awesome feeling to think that 10 years down the road I can go back to the high school and (see in the gym) the league champs '06 and say 'Oh, I was on that team!' It means a lot."
Sophomore Amanda Darrow broke up Basehor's no-hit bid when she smashed a one-out triple in the fourth inning. She later scored on a base hit by senior Nichole Twitchel.
The 1-0 lead stood until the seventh inning. Basehor put runners on second and third with two outs, but freshman pitcher Brittney Lang gave up a run-scoring single that tied the game. She then struck out the next batter - her eighth strikeout of the game - to get out of the inning.
With the game tied, the Lions regrouped quickly. Denney stepped to the plate with one out and laid down a bunt. Basehor's pitcher fielded it, but her throw to first was in the dirt. The ball skipped to the right field corner, and Denney wound up at third base.
Photo Gallery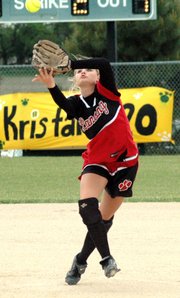 Lions win KVL softball title
"She's my best bunter," LHS coach Terry Cornett said. "I knew if she could get one down, the third baseman was playing back. The pitcher took it, and when she took it I knew she was going to throw it (in the dirt)."
Senior Nicole Holland smacked a single into right-center field. Denney scored and gave LHS a 2-1 lead.
After that, it was up to the Lansing defense. Basehor put runners on second and third with one out, and the next batter drilled a line drive toward second base. Denney lunged to her right, snagged the ball and sprinted over to tag second base.
Double play. Game over. League championship.
"It's good leadership, and then just good knowledge of the game, knowing what they have to do, knowing when they have to get the hit, knowing when they have to make the out," Cornett said. "The couple girls there that did it are seniors. You can't replace that."