City taps assistant for clerk's post
Sunshine Petrone knows she will have some big shoes to fill beginning later this month when she takes over as the city of Lansing's human resources director/city clerk.
For the past two and a half years, Petrone has been the assistant city clerk/payroll, and has worked under Karen Logan, Lansing's longtime city clerk.
"It's been a great help to have her here and have her as my mentor," Petrone said of Logan, who is leaving Lansing after 14 years for a similar job with the city of Leavenworth.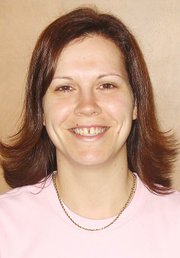 Mike Smith, Lansing city administrator, made the decision to promote Petrone last week, just days after Logan had told of her plans.
"She's very capable," Smith said of Petrone. "And I was glad to have a qualified candidate internally because I like to promote from within if I can."
In her new post, Petrone will take on the normal city clerk duties, which include being the custodian of all the city records and documents; carrying on all official correspondence of the city; attending and keeping a record of City Council proceedings; publishing all ordinances; tracking resolutions, notices and proclamations; and administering oaths pertaining to the business and affairs of the city.
In addition, she'll be the city's human resources director, keeping the various city employees abreast of their pay and benefits packages and assisting them when questions arise. She'll also oversee the Lansing Community Library.
"Because the person in this position wears so many hats, the training Karen has given me will help me tremendously in doing this job," Petrone said.
Unlike Logan, however, Petrone will not deal with city finances. Instead, Smith said, Logan's departure will move up the city's timetable to add a full-time finance director.
Smith and the council originally had targeted 2007 to add the position to the city payroll, but "we're going out now to look for a finance director."
Petrone, who has lived in the area her entire life, came to work for the city three and a half years ago as the utility collections clerk after spending more than six years in the banking industry. She said Georgia Brown, an accountant for the city, was instrumental in her beginning work with the city.
"Actually, I can credit (working for the city) to Georgia," Petrone explained. "We were neighbors, and she knew I was looking and interested in something different than what I was currently doing. She told me the position might be opening up, and so she just kind of kept me informed. I applied for it, and I got job."
Petrone, who worked only a year in the clerk's post before being promoted, she said she'd loved working for the city since day one.
"I really do love my job," she said. "It's just so different from any other job I've ever held. The opportunity for advancement was there. We're like a big family; everyone works together well. It's nice to come to a job where you actually enjoy what you do and the environment you're in."
Petrone's first day in her new post will be May 20. Logan's last day with the city will be May 19, and she'll start her job in Leavenworth on May 30.