Exhibit unearths history found in county cemeteries
Lansing Community Museum will play host to a countywide cemetery exhibit beginning next week.
"A Grave Matter: A History of County Cemeteries" opens at 10 a.m. Tuesday, May 16, at the museum, 115 E. Kansas Ave.
Laura Phillippi, museum site supervisor, said she was inspired to pull together the exhibit of photos and explanatory text after a talk at the museum in March by Albert Hamscher, a professor of history at Kansas State University and author of "Kansas Cemeteries in History."
Hamscher's talk prodded Phillippi to go out to Lansing's Mount Muncie Cemetery and begin exploring it.
"It's pretty interesting around there," she said. "There's a lot of history in cemeteries around here if you just do a little digging - no pun intended."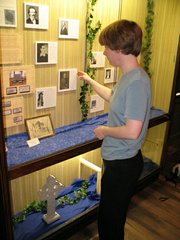 For instance, Phillippi discovered there are people of varying fame buried in the cemetery on Lansing's northeast boundary, including the mother of legendary CBS News anchorman Walter Cronkite.
"He was visiting Fort Leavenworth one day, and called and said he wanted to come and visit his mother's gravesite. The workers didn't believe it was really Walter Cronkite until he showed up," Phillippi said.
In addition to Cronkite's mother, Helen Fritsche Cronkite, Mount Muncie is the final resting place for Fred Harvey of Santa Fe Railway fame; Thomas Carney, the second governor of Kansas; David J. Brewer, a onetime U.S. Supreme Court justice who lived in the area; and Byron Mehl, the first person from the area to die in service in World War I and the namesake of Lansing's American Legion Post.
"Of course, (Richard) Hickock and (Perry) Smith from Capote's book are buried there, too," Phillippi said, talking about the infamous Clutter family murderers immortalized in Truman Capote's "In Cold Blood."
In addition to uncovering some of those buried in the nine featured cemeteries, the exhibit also will take a look at the symbolism that exists on tombstones throughout the cemeteries.
For example, Phillippi said she mistakenly thought an anchor featured on a tombstone signified the deceased had been in the Navy. Instead, she found out the anchor symbolized hope and was traced to the Bible and Hebrews 6:19:
"Which hope we have as an anchor of the soul, both sure and stedfast, and which entereth into that within the veil."
In addition to the exhibit, tours will be offered for visitors to explore three area cemeteries:
¢ At 2 p.m. Thursday, May 18, Vic Young, will lead a tour of Mount Muncie, which he managed for years.
¢ At 2 p.m. Friday, May 19, Phillippi will lead a tour of Mount Calvary Cemetery.
¢ At 3:30 p.m. Saturday, May 20, John Reichley, a member of the Fort Leavenworth Historical Society, will lead a tour of Fort Leavenworth National Cemetery.
The exhibit is opening and the tours are being conducted in conjunction with International Museum Day, May 16, and See America Week/National Tourism Week, May 13-21. Admission to the museum and the tours are free.